Colin Edwards Recovering From Broken Collarbone
Chaparral Motorsports
|
May 11, 2012
[caption id="attachment_12500" align="alignright" width="300" caption="Colin Edwards in Jerez"]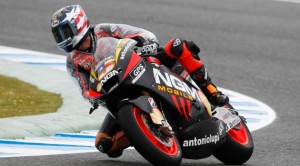 [/caption]

There are only a handful of Americans competing in MotoGP, but the number was cut down by one when NGM Mobile Forward Racing's Colin Edwards suffered a broken collarbone during a qualifying race at the recent Portuguese Grand Prix. Edwards announced he has successfully undergone surgery for the broken bone, but will not return in time for the Le Mans Grand Prix on May 18th.

Cycle News reports Edwards was operated on by Dr. Javier Mir at the Insitituto Universitario Dexeus in Barcelona. Mir has become affiliated with the motorsports competition and has handled the injuries of many riders over the past few years. Edwards himself was a patient of Mir's when he suffered an injury last year.

After returning from surgery, Edwards took to Twitter in order to update his fans on his progress.

"Doctor Mir and his team have done a great job," Edwards tweeted. "They were the ones that took care of me the last time. The surgery was really quick. I'm feeling great, still a little dizzy from the anesthesia, but feeling all right. They put a block on the side of my neck so it's feeling a little numb. I'm here watching TV and tweeting. Just want to let everyone know I'm OK."

Australian rider Chris Vermeulen will replace Edwards in the Le Mans Grand Prix.