Blake Young Takes Over Points Lead After Josh Hayes Crashes
Chaparral Motorsports
|
May 10, 2012
[caption id="attachment_12468" align="alignright" width="300" caption="Josh Hayes went down on a left-hand turn on lap 22, allowing Blake Young to race past and take the lead - Photo: Brian J. Nelson"]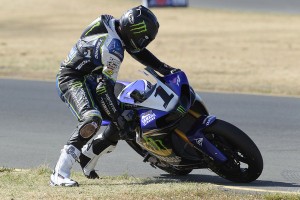 [/caption]

Josh Hayes turned in an excellent performance at Infineon Raceway to capture his third AMA Superbike race of the year, but Blake Young won the second race to take the points lead.

The defending champion was out in front from the get-go in the first race, although his position was not unchallenged. Blake Young fought back from a bad starting position to keep pace with Hayes through the early laps. However, Young just didn't have enough to catch the Monster Energy Yamaha rider, and Hayes eventually won by whopping 10 seconds.

"Honestly, the race went to plan," Hayes said. "I was excited to get a good start - I've been getting beaten up pretty bad on the starts it seems for the first couple of races. I got a pretty good run off the line and had some clear track and hoped I could string together a pretty good first lap and try to get myself a bit of cushion and see where I could go from there."

The second race was more of the same at the beginning of the race. Then, Hayes went down on a left-hand turn on lap 22, allowing Blake Young to race past and take the lead. Hayes recovered and eventually finished seventh, but the damage was done. Young won the race and erased Hayes' overall points lead from the previous race, taking over as the AMA Superbike leader.