Rain Causes Cancellation In World Superbike
Chaparral Motorsports
|
May 10, 2012
[caption id="attachment_12472" align="alignright" width="300" caption="Tom Sykes was in the lead when the race was canceled. He will be awarded half of the points he would have normally earned for the race - Photo: Alberto Manganaro"]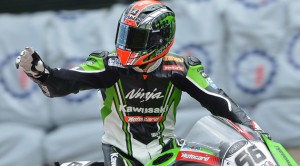 [/caption]

Inclement weather shortened the World Superbike schedule in Monza, Italy, this weekend, as organizers weren't confident the riders' motorcycle tires would hold up in the wet conditions.

Rain had been present on the track all week long, which caused concern when rider's tires began falling apart during testing. On race day, it quickly became clear that conditions were unsafe. Three riders went down to crashes before the race was called off, with John Hopkins breaking his foot. The race was cancelled due to the weather once organizers realized things were unsafe.

On day two, the riders got in a bit of official racing before rain once again caused things to end early. British Kawasaki rider Tom Sykes was in the lead approximately halfway through the second race when organizers decided to pack it in for the weekend. According to Cycle News, Sykes will be awarded half of the points he would have normally earned for the race, with the remaining riders getting a pro-rated portion of the points as well according to their position when the race was stopped.

The shortened race was good news for Max Biaggi and Carlos Checa, who were further back in the pack when the race was stopped. Despite being behind, the riders maintained their position at the top of the standings due to Sykes and the other riders only getting half the points they otherwise would have.