Casey Stoner Takes Estoril GP
Chaparral Motorsports
|
May 8, 2012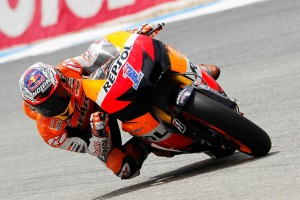 Given Casey Stoner's dominant performance last year, some MotoGP fans were surprised when the rider didn't start winning right out of the gate this season. With his recent win in Estoril, however, Stoner has now taken over the lead position at the top of the standings.

The Australian rider shot out of the gate quickly, passing his teammate Dani Pedrosa on the first lap and taking over the lead, reports Cycle News. While Stoner never surrendered the lead for the rest of the race, the competition was still quite tense to watch. Yamaha's Jorge Lorenzo was on Stoner's heels almost the entire way, with the Australian only putting a bit of distance between himself and Lorenzo on lap 26.

"Not only could I hear him, but my pit board kept me well informed of how close he was," Stoner told the news source after the race. "But in general we've been pretty happy with this weekend. Everything went well in practice and reasonably well in qualifying. But we always struggle a little bit more in the warmer conditions."

Stoner mentioned the team had issues with their motorcycle tires in the hot weather, which caused some instability in the middle of the race. Once Stoner was comfortable with the bike later in the race, he was able to increase his speed and break away from Lorenzo, who ultimately settled for second and is one point behind Stoner in the overall standings.