Ryan Abrigo The Big Winner At The 2012 GEICO MiniMotoSX
Chaparral Motorsports
|
May 7, 2012
Two wins and a second earns him $8,000 in purse money
[caption id="attachment_12301" align="alignright" width="300"]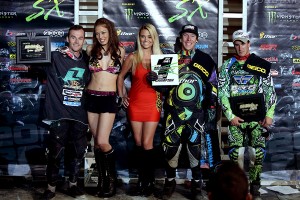 2012 MiniMotoSX 12 Inch Expert Class Podium - Photo: Drew Ruiz[/caption]

The ninth annual GEICO MiniMotoSX, Fueled by Monster Energy took place inside the Orleans Arena and BBR Monster Energy backed Ryan Abrigo was the big winner. With wins in both the 12 Inch Expert and World final as well as a second place finish in the 10 Inch Expert class, Abrigo walked away with $8,000 in purse money for the evening of Mini Bike racing. The 2012 MiniMotoSX was again the World's Largest Minibike race with over 300 entries and it was a truly International event with riders from France, Italy, Japan and the United States taking wins.

Abrigo came out on top of an intense battle with France's Mike Valade in the premier 12 Inch Expert class. Valade made a mistake and finished third behind Willy Browning. In the 10 Inch Expert class, Michael Blose took the win over Abrigo and Willy Browning.

The World Final, which combines the top riders from Expert, Youth and Women's classes as well as top international riders, was also won by Abrigo. Browning and Valade again finished second and third respectively.

Jeff Willoh, the former top Arenacross rider won the Vet 35+ class over Matthew Skerrett and Japan's Tomokuni Osada.

Tatum Sik successfully defended her Women's class title. Erika Short, a former champion finished second and Justine Geisler made the long trip from France to finish third.

Zac Hays won the TB Parts Vintage class for the third straight year. Zach Martino finished second and Randy Pekarek finished third.

Italy's Alceste Pallotta won 12 Inch Amateur class, which had nearly sixty entries. Killian Woder finished second and Mike Wendricks took third.

Hiroshi Nakayama came all the way from Japan to take the 10 Inch Amateur class win over Drake Williams and Robert Rexrode.

Duane Brown, one of the three brothers that founded BBR Motorsports won the 10 Inch Stock/Mod class. He has been trying to win this class for the past eight years. Ricky Fitzgerald finished second ahead of Tyler Zuech.

Michael Horban won the 12 Inch Stock/Mod class over Kyle Davis and Randy Pakarek.

Shawn Rinehart won the 16 Inch Amateur class for the second year in a row. Michell Staben finished second and Ty Pennington finished third.

Ryan Dudek, the Cycle World magazine Off Road editor won the Zero Electric bike domo race. Dirt Rider magazine's Chris Green finished second ahead of Zero Test rider Trevor.

Thirteen year old Carson Brown won the 12 Inch Youth 13-17 class in his first year of eligibility. This was the first time that a father/son took MMSX championships on the same night. William Bojorquez finished second and Stephen Dunn took third.

Thibault Lacaille, another rider that made the trip from France won the 10 Inch Youth 13-17 class over Dillon Drummen and Carson Brown.

Devin Strong won a very entertaining race in the 12 Inch Youth stock 9-13 class. Kash Williams took second and Brian Haman finished third.

2012 GEICO MiniMotoSX Results
2012 GEICO MiniMotoSX Image Gallery (Click for full size images)


World Final Results



Ryan Abrigo

Willy Browning

Mike Valade

12 Inch Expert Results


Ryan Abrigo

Willy Browning

Mike Valade

10 Inch Expert Results


Michael Blose

Ryan Abrigo

Willy Browning

+35 Vet Class Results


Jeff Willoh

Matthew Skerrett

Tomokuni Osada

Women's Class Results


Tatum Sik

Erika Short

Justine Geisler

TB Parts Vintage vs CRF50 Results


Zac Hays

Zach Martino

Randy Pekarek

12 Inch Amateur Results


Alceste Pallotta

Killian Woder

Mike Wendricks

10 Inch Amateur Results


Hiroshi Nakayama

Drake Williams

Robert Rexrode

10 Inch Stock/Mod Results


Duane Brown

Ricky Fitzgerald

Tyler Zuech

12 Inch Stock/Mod Results


Michael Horban

Kyle Davis

Randy Pakarek

16 Inch Amateur Results


Shawn Rinehart

Mitchell Staben

Ty Pennington

Electric Bikes Results


Ryan Dudek

Chris Green

Trevor

12 Inch Youth 13-17 Results


Carson Brown

William Bojorquez

Stephen Dunn

10 Inch Youth 13-17 Results


Thibault Lacaille

Dillon Drummen

Carson Brown

12 Inch Youth Stock 9-13 Results


Devin Strong

Kash Williams

Brian Haman

Special Thanks to the 2012 MiniMotoSX sponsors:
GEICO, Monster Energy, Freegun, RideNow Powersports, Kawasaki, Zero, Pitster Pro, CHP, TB Parts, Thor, BBR, SSR, TBolt USA, Traxxis, All Access, Pole Position, Planet Mini's.

Complete results are available at this link: http://mmsx12.tracksideresults.com/

You can find more info at www.minimotosx.com.

For rules and race information visit www.minimotosx.com or email minimotosx@sorc.com