John Hopkins Breaks His Foot At Monza
Chaparral Motorsports
|
May 6, 2012
[caption id="attachment_12290" align="alignright" width="300"]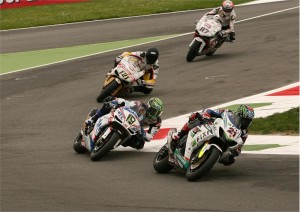 John Hopkins was involved in a crash in the early stages of the first race at Monza[/caption]

Crescent FIXI Suzuki's John Hopkins was involved in a crash in the early stages of the first race at round four of the World Superbike championship at Monza today which left the Anglo-American with a broken right foot.

Hopkins had a huge high-side after only a couple of laps and it was immediately evident that he was in some discomfort from the crash. Hopkins was taken straight for an X-ray where it revealed he had suffered a fracture of his foot as well as some torn muscles in his left hip. The incident involving Hopkins, as well as some other crashes, and the bad weather that has plagued Monza all weekend, left the organizers with no option but to cancel race one and hope that conditions improved for the second race later in the day.

Race two did finally get underway after a short delay, with Leon Camier as Crescent FIXI Suzuki's only representative on the grid. The race began under menacing Monza skies and they didn't disappoint as rain caused the race to be red-flagged and stopped at half distance. Kawasaki's Tom Sykes was clear at the front of the pack so was awarded half points for his efforts - due to the shortened race - with Camier bringing his Yoshimura powered GSX-R home safely in 15th to score half-of-a-point.

Crescent FIXI Suzuki now heads straight to Donington Park in England for the European round of the WSBK championship - to be held at the Leicestershire circuit next weekend. The team will make a decision on the fitness of Hopkins once the severity of his injury has been assessed and will then make an announcement over his ability to take part or whether a substitute rider will be drafted in for the race.

Leon Camier:

"Today was embarrassing because I was running around with people I knew I could beat. I could catch them on the brakes, but once we exited the turns, they left me for dead. We all knew that there might be problems today if it was wet or partially wet, because in practice and qualifying the rain tires destroyed themselves after about five or six laps, so there was no way that they would've lasted a race distance. We all hoped for dry conditions, but they never happened. The organizers were aware of the problems with the wet tires and both their decisions today were the right ones."
John Hopkins:
"That was not a good weekend. I got pretty banged up in the first race crash and damaged my left hip and broke a bone in my right foot. I don't know what happened because the bike suddenly let go without any warning. It's a big shame because I had been really looking forward to this weekend and continuing my improvement. Today's conditions were treacherous and all the changes of weather didn't help at all. There was no way we could ride on the wets, so the right decisions were made."
Jack Valentine - Team Manager:
"It's difficult to make complete sense of a day like today, but thankfully it doesn't happen very often. If the track was soaking wet and it was raining, the wet tires wouldn't have lasted long enough - maybe just five or six laps. The cancellation of race one and the stoppage of race two were the correct choices, though obviously the crowds weren't very happy. Hopkins made a fantastic start in the first race, but was forced to take avoiding action when Melandri got all crossed up just in front of him. He dropped to 10th but got back in the groove before crashing out. Leon rode really grittily in both races I'm happy he kept both wheels on the ground and managed to finish. We've lost valuable track time this weekend and that's frustrating, especially as we've definitely improved our set-up in conditions like these."
Monza Overview And World Championship Standings
2012 World Superbike Monza Image Gallery (Click for full size images)


Overall Results - Monza Superbike Race 1: Cancelled

Overall Results - Monza Superbike Race 2



Tom Sykes: 14'08.800

Leon Haslam: 14'18.509

Eugene Laverty: 14'18.919

Marco Melandri: 14'19.094

Max Biaggi: 14'19.327

Jonathan Rea: 14'19.438

Carlos Checa: 14'19.699

Davide Giugliano: 14'20.995

Jakub Smrz: 14'21.999

Ayrton Badovini: 14'28.172

Hiroshi Aoyama: 14'33.351

Chaz Davies: 14'33.455

Maxime Berger: 14'33.462

Lorenzo Zanetti: 14'33.468

Leon Camier: 14'33.610

World Championship Standings


Max Biaggi (Aprilia) - 97.5

Carlos Checa (Ducati) - 95.5

Tom Sykes (Kawasaki) - 91.5

Marco Melandri (BMW) - 72.5

Jonathan Rea (Honda) - 70

Leon Haslam (BMW) - 68

Sylvain Guintoli (Ducati) - 66

Eugene Laverty (Aprilia) - 64

Jakub Smrz (Ducati) - 42.5

Davide Giugliano (Ducati) - 41

Maxime Berger (Ducati) - 26.5

Michel Fabrizio (BMW) - 26

Hiroshi Aoyama (Honda) - 24.5

Lorenzo Zanetti (Ducati) - 21

Niccolò Canepa (Ducati) - 20

Joan Lascorz (Kawasaki) - 17

Leon Camier (Suzuki) - 14.5

Ayrton Badovini (BMW) - 14

Leandro Mercado (Kawasaki) - 9

David Salom (Kawasaki) - 9

John Hopkins (Suzuki) - 8

Bryan Staring (Kawasaki) - 6

Chaz Davies (Aprilia) - 4

Mark Aitchison (BMW) - 1

Joshua Brookes (Suzuki) - 1

Source: Team Suzuki