Live Results Coming To AMA EnduroCross
Chaparral Motorsports
|
May 4, 2012
[caption id="attachment_12178" align="alignright" width="300" caption="2011 AMA EnduroCross Boise - Photo: Drew Ruiz"]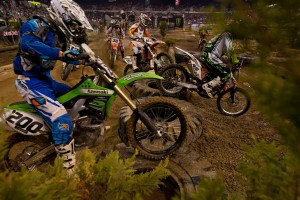 [/caption]

The internet has changed the way people consume motorsports, but some competitions do not have a major presence on the web. The GEICO AMA EnduroCross recently announced it would be making a major step forward technologically by offering live timing and scoring online for all of its races.

The live timing and scoring will debut this Friday with the GEICO AMA EnduroCross in Las Vegas. For the first time ever, fans will be able to follow the on-track action live through their computer, getting constant updates on track position and overall lap times. Not only will the main event be covered, but all of the pre-race heats, qualifiers and various side competitions will be included.

EnduroCross officials hope the free service will allow more fans to follow the sport, even if they can't catch the race on television.

"We have EnduroCross fans from around the world that want to know what is happening in real time so we are happy about getting this live feed up and running" said Mike Karsting, VP of events at Source Interlink, which owns and maintains the official EnduroCross website. "The results feed won't catch the real action of EnduroCross but at least race fans will be able to follow their favorite riders results live."