John Hopkins Prepared For First Run At Monza
Chaparral Motorsports
|
May 2, 2012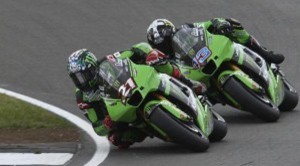 John Hopkins is preparing for a tough challenge this weekend in World Superbike, as the series is heading to the famous Monza track in Italy.

Known as the "Temple of Speed," the track is a favorite among race enthusiasts for its three-quarter-mile straightaway, where motorcycles are known to hit 200 miles per hour. However, the most difficult section of the track may be the chicanes, a twisty section where skill, not speed, is the key.

Despite Hopkins' long career, he's never raced at Monza before, putting him in a unique position heading into the race. The sole American in World Superbike has recovered fully from a hand injury he suffered earlier this season and says he's ready to tackle the famous speedway, according to Cycle News.

"Funnily enough, I have never ridden at Monza before, so I will have to start the weekend learning the track," Hopkins told the news source. "Normally I am a quick learner and because I have watched a lot of TV footage of the track, I don't see any big problems. Apart from the chicanes, it looks pretty straightforward. As long as it's dry, I reckon I can get it dialed-in pretty easily."