Ryan Dungey Picks Up First Win After Collarbone Injury
Chaparral Motorsports
|
May 1, 2012
[caption id="attachment_11978" align="alignright" width="300" caption="Ryan Dungey bounced back to pick up his first win of the season since his injury - Photo: Frank Hoppen"]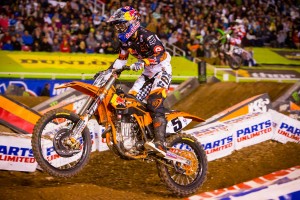 [/caption]

Ryan Dungey was perhaps the only rider who had a chance of challenging Ryan Villopoto for the AMA Supercross crown. Unfortunately, a broken collarbone ended Dungy's championship hopes early.

At the recent AMA Supercross event in Salt Lake City, Dungey bounced back to pick up his first win of the season since the injury. However, the race initially looked like it would belong to Davi Millsaps.

Millsaps grabbed the holeshot and built up an early lead, with Jake Weimer and Dungey in second and third. On the eighth lap, Dungey and Weimer tangled on a corner and Dungey ended up going down. Yet the KTM rider picked himself up and eventually chased Weimer down.

"I didn't see [the pass] coming and that was my fault," Dungey said of the incident. "My front wheel got a barrier in the corner and I went down. [After that] my focus was to run him down, and I did. I had a tough part of the middle of the season, and I knew I had the speed tonight. I just needed to be patient."

After passing Weimer, Dungey took advantage of a small mistake by Millsaps to get past him and take the win. Millsaps settled for second, while Weimer took third.