Michael Leib Proves Himself In Italy
Chaparral Motorsports
|
May 1, 2012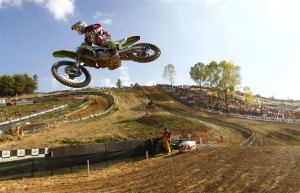 Many fans in the U.S. focus on the American Motorcyclist Association for their Supercross and Motocross fandom, but there are motorsports competitions overseas as well, such as the MX World Championship. Americans had reason to follow the competition this past weekend, as U.S. rider Michael Leib was competing as a fill-in for the Monster Energy Yamaha team.

Despite not regularly riding in the series, Leib impressed on the MX2 stage. The American rider finished third in both weekend's races, reports Dirt Rider Magazine. In the second moto, Leib was actually in the lead before eventually being passed by Jeffrey Herlings, who won both races for first place on the podium. Leib's two third-place finishes were good enough to put him in second overall, however.

"I got the opportunity to come over here for two weeks and ride a good bike and the goal was to do exactly what I accomplished today," Leib told the news source. "It is not every day you can achieve a highly set aim like that, especially one other people think you cannot reach. I proved myself and it was a very emotional feeling."

Leib will likely head back to the states now that his two-week substitute gig is over, and admits that his future in motorsports is unknown - though after his performance, he's likely earned a spot somewhere.