Guy Martin Wins Cookstown 100 Superbike
Chaparral Motorsports
|
April 30, 2012
[caption id="attachment_11913" align="alignright" width="300"]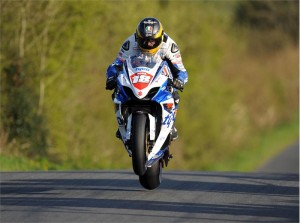 Guy Martin raced his GSX-R1000 to a Superbike victory.[/caption]

Tyco Suzuki's Guy Martin raced his GSX-R1000 to a Superbike victory and two fastest laps at Saturday's Cookstown 100 Road Races in Northern Ireland.

Despite completing a handful of laps at the Thruxton circuit a fortnight ago, Cookstown was Martin's first time on a motorcycle since his win at the Ulster Grand Prix in August last year, proving that despite a varied and often criticized schedule, the Kirmington truck mechanic has kept himself in top-top condition.

Guy Martin:

"Yeah that was alright. It could have been better but a win's a win and we weren't a million miles away with where we needed to be. The big Suzuki is right there on the ball and only for a little mistake we could have given the Tyco Suzuki boys a double today - I'm disappointed at that. It's good though. I've enjoyed the run out, blown the cobwebs out and we'll be back now for the North West in a couple of weeks and hopefully we can climb a few steps there as well."
Philip Neill
- Team Manager:

"As much as Cookstown is an opportunity to run some final tests with our 2012 road racing bikes prior to the NW200 and TT, it is of course our local road race and one we like to support. To gain a win in the Superbike class this early in the season is fantastic and very positive for the upcoming events.

"Together with the race win and the fastest lap in both races was very satisfying. Guy made a small mistake or would have had a certain double as he had already reeled in leader Ryan Farquhar, who is a circuit specialist, and he did it fairly easily. After that performance both Guy and the team are looking forward to our next outing on the roads where we can add Alastair Seeley and Conor Cummins to our line-up at the North West 200."
Source: Team Suzuki