Chaparral Motorsports Returns To Racing
Chaparral Motorsports
|
April 27, 2012
The Southern California Motorcycle Dealership Signs on as Title Sponsor to L&MC Racing Team
Chaparral reunites their relationship with Larry Brooks and Jeremy McGrath after 12 years this week, by signing on as the title sponsor of the L&MC Racing team.

Chaparral Motorsports has a rich history in supporting the sport of motorcycle racing. It has been proud to have sponsored motorcycle racing legends like Jeremy McGrath, Tim Ferry, Steve Lamson and Damon Buckmaster, to name a few. The relationship between Jeremy McGrath, Larry Brooks and Chaparral Motorsports has been a winning success in the past. The Chaparral Motorsports race team was the 1st non-factory team in the history of the sport to win a Supercross Championship. The team went on to win not only one (1), but three (3) Supercross Championships for 1998, 1999, 2000.

Driven by the desire to return to Chaparral's racing roots, the team sponsorship became available and with the Outdoor series approaching Chaparral Motorsports knew this was the perfect opportunity. "We are missing a number #1 plate for the AMA Motocross Outdoor series - and want to add a motocross championship to a list of accomplishments that Chaparral has been a part of," states Chaparral Motorsports' David Damron. "Andrew Short's proven success in the Outdoors-and the recent Seattle win, Larry Brook's dedication as a team manager, and Jeremy McGrath's championship success are the winning combination to a number #1 plate."

[caption id="attachment_11796" align="alignright" width="300"]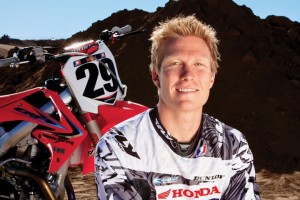 29 - Team Chaparral's Andrew Short[/caption]

Andrew Short will race for a win on his factory Honda CRF450. "Motocross challenges both the rider and bike, between Andrew's excellent training program and riding on a Honda CRF450 a championship is within our grasp," states David Damron.

Chaparral Motorsports® is recognized as one of the largest motorcycle accessory and vehicle dealerships in the country. Chaparral Motorsports now encompasses a 160,000 square foot footprint. Started as a family motorcycle parts business, Chaparral Motorsports® has developed into a multi-line motorcycle and ATV dealer, offering Honda®, Yamaha®, Kawasaki®, KTM®, Suzuki®, Can-Am, Victory®, Polaris® and Kymco ATV's, motorcycles, and utility vehicles. Check www.ChapMoto.com for information about Chaparral Motorsports.