Casey Stoner Talks Arm Pump
Chaparral Motorsports
|
April 27, 2012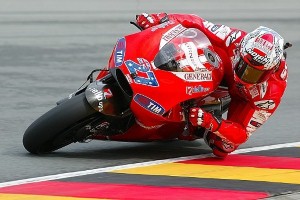 Going into the MotoGP season, everyone assumed Casey Stoner would dominate right from the outset. The Honda rider was at the top of the standings in all the pre-season tests, and since he won the championship by such a large gap last year, there was no reason to think the Australian rider wouldn't repeat.

It all seemed to be going according to plan during the first race, with Stoner well out in front. Then, arm pump flared up. The condition has appeared in many motorsports competitions, particularly superbike and motocross. Essentially, it's numbness in the arms that makes it difficult to steer.

Stoner fell back to third in the race and has now been fielding questions about arm pump ever since. Arm pump was the topic on every reporter's mind when Stoner held a press conference before the Jerez test this weekend, reports Cycle News. While the Australian rider didn't reveal exactly what he's doing to treat the pain, he assured reporters and fans he believes the problem is behind him.

"We don't get to go and test these bikes during the week, so it's really difficult to understand if you make any improvements or not," he said. "So we can only do what we have done and hope for the best this weekend. We're doing quite a few different things and different solutions. It worked back in 2010 [when he had it last] and so, hopefully, this year we can do the same thing basically and get ourselves back on track."

Time will tell if Stoner returns to form at Jerez, a track he's never won at in any level of superbike competition.