Rent An XR1200 And Race At Infineon
Chaparral Motorsports
|
April 26, 2012
[caption id="attachment_11772" align="alignright" width="300" caption="Kyle Wyman on his Harley-Davidson XR1200"]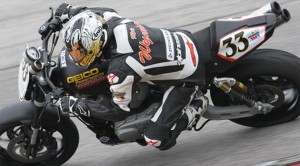 [/caption]

The economy has affected just about all aspects of motorsports, and it's not uncommon to hear of riders having trouble financing their own rides in order to compete. The tough times have led to some novel new developments, and in the AMA Pro Vance & Hines XR1200 series that means renting out bikes for racers to use.

Kyle Wyman Racing (KWR) doesn't have the funds to field a full-time rider on one of their Harley-Davidson XR1200s, so the team is renting out the ride to interested racers. Since purchasing a race-ready XR1200 is not an option for many motorsports competitors, getting experience on the bike can be tricky. That's where renting a bike comes in.

KWR recently told Cycle News there are still slots left for the upcoming competition at the West Coast Moto Jam at Infineon Raceway in Sonoma, California, on May 4-6. Riders who rent an XR1200 can get themselves into the competition and have a chance to compete in the series.

"I want to see this series continue to grow," Kyle Wyman told the news source. "AMA Pro Racing and Vance & Hines have worked hard to provide a great series for us riders, and my goal is to create an enhanced avenue for new riders to give it a try. The series has been good to me - it has allowed me to continue racing in the current state of the economy, and I want more riders to experience what this series has to offer."