Sylvain Guintoli, Jonathan Rea, Triumph In Assen
Chaparral Motorsports
|
April 24, 2012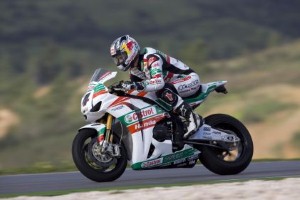 A rainy weekend in Assen, Holland, resulted in a very strategic round of World Superbike racing, reports Cycle News.

In the first race, several riders went down due to the rainy conditions, including Jonathan Rea. During the restart, Sylvain Guintoli passed much of the pack and was able to jump out to a quick lead. The race was eventually shortened due to the slick conditions, and Guintoli benefited by being out in front, picking up his first ever win. Davide Giugliano took second, while world champion Carlos Checa settled for third.

The second race was all about motorcycle tires. Checa demonstrated how important picking the right tires can be, as he picked rain tires instead of slicks and was forced to pit, costing him a lap and leading to an out-of-character seventeenth-place finish. Rea, meanwhile, rebounded from the first race by making the correct tire choice. The Honda rider came from behind in order to pass Guintoli and take the win, his first of the year and ninth overall victory in the series.

Guintoli settled for second, but ultimately won the weekend overall with his 1-2 finish. Eugene Laverty came in third in the second race.