Ryan Villopoto Suffers Shocking Knee Injury, Will Miss Entire Motocross Season
Chaparral Motorsports
|
April 24, 2012
[caption id="attachment_11709" align="alignright" width="300" caption="Ryan Villopoto was forced to withdraw early in this past weekend's race in Seattle - Photo: Frank Hoppen"]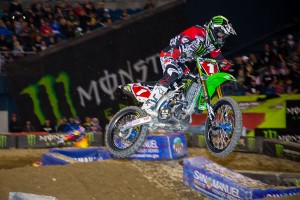 [/caption]

Good thing Ryan Villopoto wrapped up the AMA Supercross championship last week.

After being more than 100 points ahead in the overall standings, Villopoto won his second AMA Supercross title in a row last week, and planned to ride out the rest of the season in laid-back fashion. Villopoto was forced to withdraw early in this past weekend's race in Seattle after taking a handlebar in the stomach and tweaking his knee. The team initially said it was not serious, but it now appears to have been far more problematic than it originally appeared.

Cycle News reports that the knee was the same that kept Villopoto out of action several years ago, which forced him to miss extended time. The knee actually "popped out," and will cause Villopoto to miss the entire AMA Motocross series this year.

Villopoto was the defending champion after winning the series last year, and would certainly have been the favorite this year after his dominant Supercross performance.

"I'm pretty disappointed right now," Villopoto told the news source. "I have trained hard for this season and even though I won the supercross title, I really wanted to defend my outdoor championship. I've been through injury before and I know how hard I have to work to get back."