Ryan Sipes Surprises In Seattle
Chaparral Motorsports
|
April 23, 2012
[caption id="attachment_11669" align="alignright" width="300" caption="Ryan Sipes returned from injury to become the surprise winner in the AMA Supercross Lites West race in Seattle - Photo: Frank Hoppen"]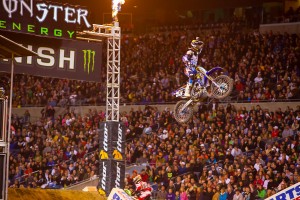 [/caption]

Coming back from an injury can be extremely challenging in the world of motorsports, but all the rehab and therapy are worth it when they result in a win. Ryan Sipes experienced that this past weekend when he returned from injury to become the surprise winner in the AMA Supercross Lites West race in Seattle.

After a nine-week break in the series, Sipes was back on the track coming back from an injury suffered in the first half of the Lites West season. The Yamaha rider jumped out to a lead on the first lap and nobody else could catch him.

"I worked really hard to come back here and didn't think I'd be able to," said Sipes. "I tried not to push. I tried to conserve and flow. I didn't go fast, but I didn't go slow either. The first five races [this season] were so tough. I felt good, but I was pushing too hard. It just feels so good to come back from [my] injury like this."

Much of the attention then focused on the battle for second place, as riders Eli Tomac and Dean Wilson came into the race just one point apart in the overall standings. The two riders actually collided at one point and Wilson went down, allowing Tomac to get ahead. Tomac settled for third after being passed by Marvin Musquin, while Wilson finished in seventh.

Tomac now leads Wilson by 4 points in the overall series, and it looks like the final two races will be a duel between these two riders.