Josh Hayes, Blake Young, Take AMA Superbike Victories
Chaparral Motorsports
|
April 23, 2012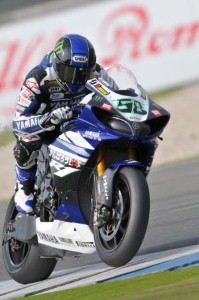 Saturday's AMA Superbike race at Road Atlanta was full of drama, with Blake Young getting back on his bike after a crash to take the victory, reports Cycle News.

Young got tangled with Yamaha rider Josh Hayes, forcing the red flag to come out. Young's team quickly made repairs to the bike as the rider changed into new motorcycle apparel. By the time the race restarted, Young was good to go and was able to hold off Hayes over the final lap to get the win.

After the race, Young credited the victory to his crew team, which got the bike ready to go after the bad crash.

"Those guys are the best team in the paddock," Young told the news source. "That thing was spot on. This one's for them."

On Sunday, things were reversed, but not nearly as dramatic. Hayes jumped out to an early lead and although Young made a few runs at the Yamaha rider, it wasn't enough to catch Hayes. Josh Herrin and Roger Lee Hayden finished third and fourth in both races, respectively.

Hayes also gave credit to his crew, as he had crashed two bikes during Friday testing.

"I made my boys do a lot of work this weekend and I had to pay them back somehow," he told the news source.