Eli Tomac Ready For Lites West Return
Chaparral Motorsports
|
April 20, 2012
[caption id="attachment_11525" align="alignright" width="300" caption="Eli Tomac is in the hunt for the championship, but almost had his hopes dashed when he crashed in the San Diego race - Photo: Frank Hoppen"]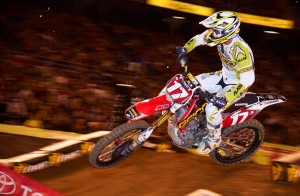 [/caption]

The Supercross Lites West series takes nine weeks off in the middle of the competition, and no rider benefited from that break this year more than Eli Tomac. The GEICO Honda rider is in the hunt for the championship, but almost had his hopes dashed when he crashed in the last race. Fortunately, the rider has recovered from the elbow injury he sustained in that race and is now looking forward to competing in the final races, reports Cycle News.

"I'm 100 percent on the track right now," Tomac told the news source. "I don't have to worry about anything limiting me. I was off the bike for like four weeks, and was doing a lot of physical therapy with my elbow. It wasn't that bad of a break at all. They didn't even put a cast on it; they just let her heal up."

Tomac will be racing against Dean Wilson for the title, although a few other riders have an outside chance of walking away with the championship. Tomac had the lead in the series by a comfortable margin, but his crash allowed Wilson to catch up. Tomac now trails by two points with three races left on the Lites West schedule.