Justin Barcia Has Chance To Clinch Title In New Orleans
Chaparral Motorsports
|
April 12, 2012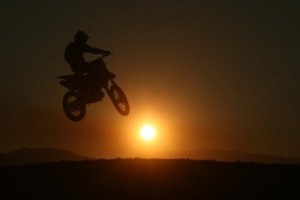 With just two races left on the AMA Supercross Lites East schedule, points leader Justin Barcia has a chance to wrap up the championship next week in New Orleans.

Barcia is 32 points ahead of rider Blake Wharton, and if he keeps up his recent success he'll likely walk away as the champ. First place in a race awards 25 points, so Barcia needs to ensure he keeps a 25-point cushion to clinch the title before the last race. That means that Barcia just needs fourth place or better - assuming Wharton finishes in first.

Thus, the race becomes a balancing act between competing for position and avoiding crash or injury.

"It's going to be an interesting race for me in a lot of ways," said Barcia. "There's a lot of different stuff getting thrown at me. It's a new race, new dirt, a different stadium and, of course, I've got a chance to clinch the championship."

Barcia indicated he doesn't plan to let the situation change his riding style from his previous races, adding that he wants to race "smart and smooth" as in his other victories.