Jorge Lorenzo Upsets Casey Stoner To Take Qatar
Chaparral Motorsports
|
April 10, 2012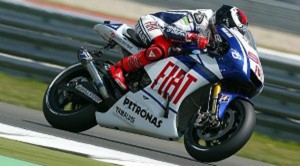 Going into the opening race in Qatar, most MotoGP fans believed Casey Stoner had the win in the bag. After all, the defending champion was easily the fastest rider in all the pre-race tests, and he had also won the past four of five races at the track.

As the first event of the MotoGP season kicked off, it appeared that the pre-race hype was spot-on: Stoner jumped out to an early lead and built up quite a gap on the other riders. However, Stoner noticeably slowed down in the second half of the race, and Yamaha's Jorge Lorenzo was eventually able to catch up and pass the Australian. Stoner's teammate Dani Pedrosa also passed the rider, forcing him to settle for third.

After the race, Stoner complained of "arm pump," a condition that many riders suffer from which leads to a tightening of the forearm muscles and makes it painful to grip the bike. Lorenzo, meanwhile, was thrilled to get the win with his late charge past the champ.

"What an amazing race," said Lorenzo. "I put everything I have, all my energy into the track, this victory is because I never gave up, kept pushing and trying. Casey [Stoner] was very strong at the beginning and opened a gap. Fortunately for us he struggled at the end and dropped his pace where I could keep mine so I managed to pass him."