How To Plan A Motorcycle Wedding
Chaparral Motorsports
|
April 9, 2012
When two motorcycle riders get engaged the possibility of a motorcycle inspired wedding is soon to follow. While motorcycle inspired weddings are nothing new, more and more couples are throwing out the old traditional wedding and replacing them with modern themed based weddings.

[caption id="attachment_11395" align="alignright" width="225" caption="Is this what Stevie Nicks and Don Henley meant by Leather and Lace?"]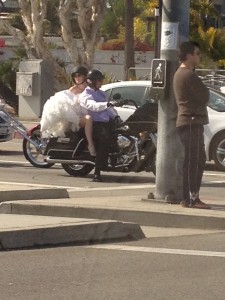 [/caption]

Before you go out and buy the clothing/gear necessary it's important that you carve your budget in stone. Two motorcycle enthusiasts shopping for motorcycle gear to wear in their wedding is a recipe for disaster. Overspending is a regular issue with weddings but when you mix in motorcycle gear, it's just too hard to say no.

To get the most bang out of your buck, make sure that you use the Internet to your advantage. The first stop in your motorcycle wedding is what are you going to wear.

Tips for Motorcycle Wedding Gear
Be conscious of holidays. Most if not all websites have some type of sale or special promotion on the holidays. If you plan it right you can pick up your most expensive items on holidays to save some serious cash. Search Pinterest for inspiration. Chaparral Motorsports recently posted a board featuring a Leather, Lace Motorcycle Themed Wedding, http://pinterest.com/chaparralmoto/leather-and-lace-wedding

Tips for Finding the Right Wedding Flowers
If you're including wedding flowers on your special day remember that choosing your florist should not be the last things you do but one of the first. Knowing what your wedding flowers will cost beforehand can help you budget for the rest later.

Tips for Hiring the Right Wedding Photographer
While comparison shopping for photographers it's important that you first look for reviews of the wedding photographer. A simple search of "insert photographers name here" review in Google will do.