Senate Votes To Keep Recreational Trails Program
Chaparral Motorsports
|
April 5, 2012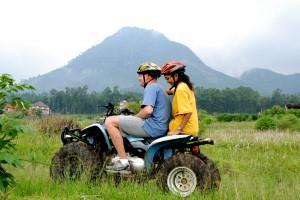 The U.S. Senate has voted to approve new legislation that will preserve the federal Recreational Trails Program (RTP) for at least two more years, according to the American Motorcyclist Association (AMA).

RTP trails make up a large portion of the terrain that is officially approved for use by ATVs, dirt bikes, side-by-sides and other off-highway vehicles in the United States. The program was in danger of having its funding cut entirely, which may have meant trails would be closed off to recreational riders.

Fortunately, Senate members fought to have the RTP included in the new transportation bill, which extended the funding for the program and also provided six million dollars per year for state programs that promote riding safety.

"We want to thank all the AMA members and others who contacted their lawmakers asking them to preserve the RTP," said Wayne Allard, AMA vice president of government relations. "It was a hard-fought battle in the U.S. Senate, and we are going to keep a close watch on the legislation to try to ensure that the language remains in the bill when it goes to the U.S. House of Representatives for further consideration, and then to the president to be signed into law."