Casey Stoner Fastest In The First Qatar Test
Chaparral Motorsports
|
April 5, 2012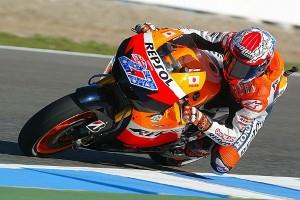 After posting the fastest time at both MotoGP preseason tests, defending champion Casey Stoner will command most of the attention as this year's MotoGP season gets underway this weekend. Stoner entered the pre-race Qatar tests as the heavy favorite, and everything he did on the track proved why that's the case, reports Cycle News.

Stoner has won four of the past five races in Qatar, causing many to believe that the Australian rider will open the season with a win this weekend. In Thursday's test, Stoner was once again the fastest around the track, posting the best lap time of 1:56.474. That was just enough to beat Yamaha's Jorge Lorenzo, who managed 1:56.648. Several riders complained that the track was dirty, but Stoner told the news source that he didn't have many issues.

"The track tonight wasn't so bad," Stoner said. "I expected the conditions to be much worse, but in general it was OK. We started this evening with huge chatter issues and I was a little afraid we couldn't fix this, but after a few more exits we managed to reduce it to a more comfortable level."