Sons Of Anarchy Stars To Make Appearance At Iowa Motorcycle Rally
Chaparral Motorsports
|
March 30, 2012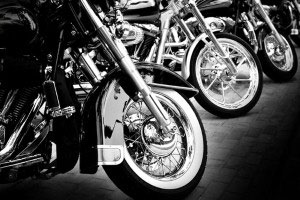 Sons of Anarchy, an FX TV drama that follows the lives of outlaw bikers from the little town of Charming, California, has been a big hit since it first aired back in the fall of 2008. Fans of the show will soon get a chance to meet two of the actors that bring the story to life at the Iowa Speedway's Iowa Grand Motorcycle Rally this July.

Katey Sagal and Charlie Hunnam, who play the mother-son duo of Gemma Morrow and Jackson "Jax" Teller, will be stopping by to meet their fans and sign a few autographs. They may be the highlight of the event, but there is plenty more for riders to see and do.

"The Iowa Grand Rally is packed full of amazing events and entertainment," said rally co-producer and emcee Jay Allen. "We're uniting riders from all walks in life. We've got sport bike riders, long distance mile eaters and custom builders all coming together to throw down at this rockin' Speedway venue. From world class motorcycle events to smokin' music and more, this is going to be an off-the-hook four-day party."

Riders from all over the state and even the country are sure to strap on their motorcycle helmets and head out to Newton, Iowa for this star-studded summertime event.