Kurt Caselli Wins Third Straight Hare & Hound Race
Chaparral Motorsports
|
March 29, 2012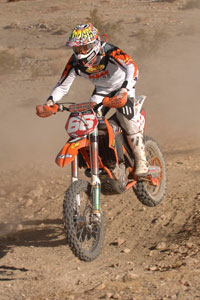 Kurt Caselli remains undefeated in the 2012 AMA National Hare & Hound Series after triumphing over the rest of the pack at Owhyee Desert in Murphy, Idaho.

The win was Caselli's third in a row, putting him comfortably atop the overall standings just a few races into the season thus far. The FMF/KTM rider made things look easy during the race, as he quickly grabbed the holeshot and never really looked back, building up a big lead that was ultimately insurmountable for the other riders.

"I was lucky enough to get the holeshot and quickly stretch my lead. Since I was out front, I didn't have to deal with any of the dust and I had a fun and relaxed race," Caselli told Dirt Bike Magazine. "The promoters did a great job of laying out this course. It was clearly marked and had a lot of tight single-track sections that made the race very technical and fun."

David Kamo was able to take second place, while David Pearson disproved the adage of "nice guys finish last" - they actually finish third. Pearson stopped off to help an injured rider, which cost him some time, but not enough to cause him to lose his third place standing.