John Hopkins Gets The All-Clear To Return To Action
Chaparral Motorsports
|
March 29, 2012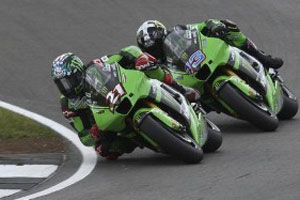 It's been a roller coaster ride for World Superbike competitor John Hopkins, the man who amputated a finger so he could return to action quickly after suffering a serious hand injury. Unfortunately for Hopkins, he later re-injured that same hand after amputation and was forced to miss the opener of the Superbike season.

Yet World Superbike takes a five-week break between the opener and the second race of the series, and Hopkins' Crescent Suzuki team recently revealed that the rider would be ready to go for this weekend's upcoming race at Imola in Italy.

"I am so pleased to get the all-clear and cannot wait to get on the bike again," said Hopkins. "I had been given strict instructions not to do any riding this week, which has been a bit frustrating, but I have occupied my time well with physiotherapy, training and numerous spells in the hyperbaric chamber. All of this has helped me to recover quickly and I have no doubt that I will be as fit as can be at Imola."

Hopkins will have an uphill battle after missing out on all the points awarded during the first weekend. The current leader is Max Biaggi, who has 45 points.