Elena Myers To Undergo Surgery For Wrist Injury
Chaparral Motorsports
|
March 29, 2012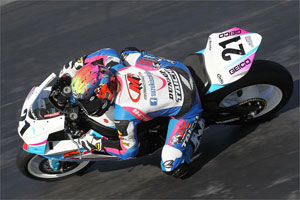 Fresh off of becoming the first woman to win a major motorsports event at Daytona International Speedway, Supersport rider Elena Myers has announced that she will be undergoing surgery on her hand.

Myers crashed during a Supermoto race nearly a year ago, and was thought to have fully recovered. However, the rider reported that the wrist was bothering her during the Daytona race and a test at Miami a few days later. Doctors took a second look at the wrist and found that part of it was still broken and would require surgery.

Fortunately, the team believes that Myers will make a full recovery before the next race in the series at Road Atlanta.

"It bothered me here and there," said Myers. "Later it started hurting really bad at home and I got it checked out and they found out what was wrong. I had a cortisone shot before Daytona. This is my first-ever surgery so it is kinda weird for me. The recovery time is two weeks or less so I'll be ready for Atlanta and I am really looking forward to going there and racing again."