New York Motorsports Announcer To Make 13,000-Mile Journey On Harley
Chaparral Motorsports
|
March 28, 2012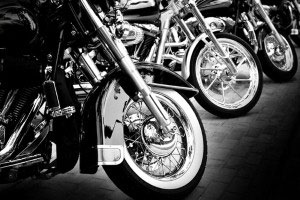 Traveling across the country is typically considered a journey for college students and retirees in RVs, but Erv Braun of Horseheads, New York, plans to make the journey on his Harley. The motorsports announcer has arranged a series of gigs around the country to coincide with his trip, mixing business with pleasure, according to The Ithaca Journal.

"I'll be doing it old school, no GPS. I've been across the country hundreds of times," Braun told the news source. "My cell phone will be off and in my saddlebag. I will have a laptop, but I'll only use it when I stop (for the night)."

The 13,000 journey, which will take him to California and through Canada and Mexico, will be chronicled on Facebook by his daughter, as well as by Motoplayground and Cycle News.

Braun will make the journey on his 2008 Harley-Davidson Ultra Classic touring motorcycle. This bike features a six-gallon fuel tank that offers an extended fuel range, according to Motorcycle.com.

Braun's final stop before he heads home will be in Toronto to receive an award for his career in motorsports announcing, according to the source.