Elena Myers Becomes First Woman To Win At Daytona
Chaparral Motorsports
|
March 26, 2012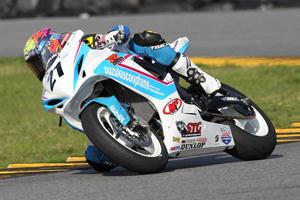 Suzuki rider Elena Myers made motorsports history when she became the first woman ever to win a professional race at Daytona International Speedway.

Myers competes in the Sportbike class, and had her work cut out for her going up against some talented riders. James Rispoli led for much of the race, but began to lose pace on the final lap and allowed others to catch up. Rispoli was passed by Myers, Corey Alexander and Hayden Gilliam, who eventually went on to take first through third, respectively.

Myers had only led briefly in the race up to that point, but was able to get by Rispoli. Although Alexander and Giliam presented a challenge near the finish line, Myers hung on in order to accomplish history.

"It's been a great weekend overall," Myers said. "I had a bit of bad luck yesterday with the draft, but I pulled it out today. I can't say enough about the bike. It was a pretty crazy race and we were going back and forth. I led out of the chicane and somehow I pulled it off."

Myers is no stranger to the victory circle. She also won at Infineon Raceway in 2010, but has not managed to secure a first place finish since that point until now.