Ducati To Sell GP10 And GP11 At Auction
Chaparral Motorsports
|
March 26, 2012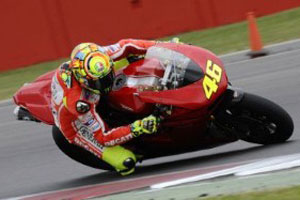 MotoGP technology is usually kept under wraps, and while all the major manufacturers release replicas of their race models, they don't compare to the high-end technology in an actual prototype bike. However, Ducati has announced that it will be auctioning off its two most recent MotoGP models to the highest bidder.

The GP10 and GP11, ridden by Casey Stoner and Valentino Rossi, respectively, will be sold at an auction in Monaco. The auction is run by RM Auctions and the lucky winner will be in the possession of a real MotoGP bike.

However, the Italian manufacturer is still going to great lengths to ensure their secrets don't get to competitors, saying the winners will be forced to sign a confidentiality agreement not to share the technology with anyone.

"The release of two very special machines like these is an extremely rare occasion for us, so the lucky buyer must not only enter into a confidentiality agreement, but also become a close member of the 'Ducati family!'" said Ducati Corse General and Technical Director, Filippo Preziosi. "The Desmosedici GP10 and GP11 were two very interesting bikes in our GP project history and therefore will represent exciting opportunities for serious collectors."