Captain America Bikes To Be Sold Off At Chicago Comic Con
Chaparral Motorsports
|
March 26, 2012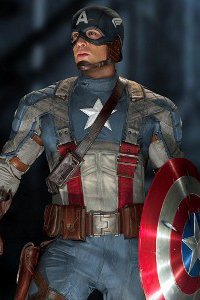 A number of motorcycles used in the film "Captain America" will soon be hitting the auction block, according to The Wall Street Journal.

Profiles in History is auctioning off three modified motorcycles from the film, including a custom Harley-Davidson ridden by the Captain himself.

The Harley has been heavily modified and retrofitted to look like it was used by the U.S. military in World War II. Captain America, played by Chris Evans, rides the bike in a climactic scene as he faces off against the evil Hydra henchmen. The motorcycle is expected to command a $12,000 to $15,000 price tag when it is put up for sale at Chicago Comic Con.

It's not just the good-guy bike that will be up for sale, however. One of the Hydra vehicles features a mounted turret on the front and is expected to go for a price close to the Captain America bike.

The third motorcycle is a modified Honda CRF250X motocross bike that was also used by the bad guys in the film. This vehicle also has guns protruding from the side. The auctioneers say that neither of the Hydra bikes are operational, and are mainly movie props for interested collectors.