2012 AMA Supercross Toronto Results
Chaparral Motorsports
|
March 26, 2012
Ryan Villopoto's Seventh Win Makes Championship A Foregone Conclusion
Ryan Villipoto leads the quest for the championship - Photo: Frank Hoppen
Even when Ryan Villopoto makes significant mistakes, it seems as if nobody in the AMA Motocross field can keep up with him, as he notched his seventh win of the season this weekend in Toronto.

Villopoto's championship is essentially a foregone conclusion at this point, as the closest rider in the standings, Ryan Dungey, is sidelined with an injury. The third overall rider, James Stewart, has turned in poor performances over the past few races.

Villopoto passed Justin Brayton on the second lap of the Toronto race and quickly built up his lead. However, his bike began to wobble on the whoops section and Brayton caught up. Yet it was still not enough to slow down Villopoto, who again pulled away and was able to win by more than 9 seconds.

"Out of the first turn, it was just me and Brayton right off the bat," said Villopoto. "I made some pretty big mistakes in the whoops. They were tough. We'll go to Houston, where I think there's a chance to wrap up the title. That's the plan."

The remaining races are still essentially a formality at this point, although the other riders aren't mathematically eliminated yet. However, Villopoto has a 79-point lead on Dungey and riders that are currently active are even further behind with just five races to go.

AMA-SX: Davi Millsaps Grabs 4th In Toronto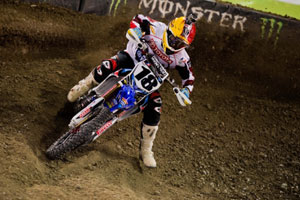 Davi Millsaps took his fourth top five result of the campaign in Toronto.
JGRMX's Davi Millsaps was the sole representative for his team on the only trip outside of the USA for the AMA Supercross series (also an FIM World Championship) as the Rogers Centre in Toronto, Canada hosted the twelfth round of seventeen. Over 47,000 spectators saw the YZ450F rider again almost grab the holeshot for the twenty lap main event and the 24 year old was in contention for another podium finish before going onto secure fourth position and take his fourth top five result of the campaign.

Millsaps was the only JGR racer in action across the border after James Stewart was forced to the sidelines in the wake of his practice crash last week in Indianapolis. "It really hurts me to say this, but after spending the last couple of days under the observation of doctors and my family, it looks like it would be best for me to sit out this weekend's race in Toronto," Stewart had communicated before the race. "The fall at Indy was big but aside from the obvious, it aggravated a couple old injuries and I'll need time to fully recover from that. at this point, there's no real time line for my return. But we'll be working at it again next week to re-evaluate my abilities for the race in Houston."

Millsaps won his heat race and then fought with Jake Weimer and Kevin Windham for the final podium slot. Windham's experience eventually helped him obtain the bottom step while the Yamaha star was able to capitalized on a mistake by Weimer late into the twenty laps to cross the line in fourth.

"It was tough through [the whoops] and it sort of messed up the rest of my lap... Still, I almost put it up on the box again, so things are going good. I'm happy."
- Davi Millsaps
"Usually, in the whoops, having long legs is an advantage but when they are rutted out like that I think it's actually worse," he explained. "It was tough through there and it sort of messed up the rest of my lap just worrying about the whoops. Still, I was up front, and I almost put it up on the box again, so things are going good. I'm happy."

Stewart is still third in the points but Millsaps is creeping up and rests just eight points behind in fourth. Round thirteen will take place next week at the Reliant Stadium in Houston.

Marvin Musquin Fights To 6th At Toronto Supercross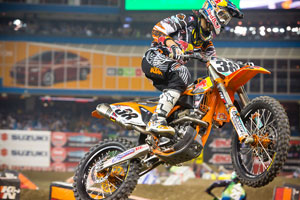 Marvin Musquin fought to a hard earned 6th place at Rogers Stadium - Photo: Hoppenworld.com
Red Bull/KTM Factory rider Marvin Musquin fought to a hard earned 6th place at Rogers Stadium in front of the Canadian crowd.

Toronto marked Musquin's last race in the Supercross class before he returns to California to begin training for his return to the West Supercross Lites class. In his heat race, he got off to a decent start and was able to finish 6th to qualify to the main event.

In the main event Musquin got off to a mid-pack start and quickly moved past a few riders to cross the first lap in 6th place. A few mistakes in the early part of the race dropped him to 9th at the halfway point. Near the final laps he began to pick up the pace and moved up to 7th. On the final lap he closed in on the 6th place ride of Kyle Chisholm. With half a lap left he was able to secure the pass and take home 6th place for the night.

"I felt a lot stronger in the second half of the race and was able to move up in position," commented Musquin. "I am happy to finish inside the top ten and am excited to get back home and get back on the 250 to train for the west rounds."

Next Race: Houston Supercross - March 31, 2012

Justin Barcia Wins Fifth Lites East Of The Season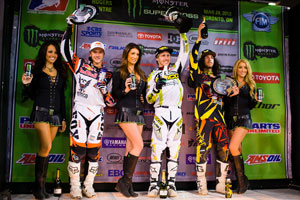 2012 AMA Supercross Lites East Toronto Podium - Photo: Frank Hoppen
Justin Barcia is slowly but surely pulling away from the rest of the pack in the AMA Motocross Lites East standings, notching his fifth win of the series at this weekend's event in Toronto.

Barcia grabbed the holeshot early and jumped out in front, but was quickly passed by KTM's Ken Roczen. The Honda rider wasn't about to fall back into the pack, however, executing a picture-perfect inside pass on Roczen to grab the lead once again. Though the two riders made contact, neither went down as Barcia pulled out in front. He eventually won by seven seconds, with Roczen riding uncontested in second place.

"Right now I couldn't be happier," said Barcia. "I got my first win here two years ago. My GEICO Honda was hooking up great. This track was really tough tonight. You had to be really smart and really smooth. I made a great pass for the lead and kind of just rode my own race from there."

The more exciting duel was for third place, with Monster Energy Kawasaki's Darryn Durham, and Rockstar Energy Suzuki's Blake Wharton trading the slot back and forth. In the end, it was Wharton who was able to slip in front in order to get on the podium.

Barcia now holds a 28-point lead over Wharton, who is in second place in the overall standings.

Ken Roczen Earns 2nd At Toronto Supercross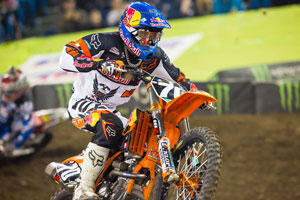 Ken Roczen earned 2nd overall at the sixth round of AMA East Lites Supercross - Photo: Hoppenworld.com
Red Bull/KTM Factory rider Ken Roczen earned 2nd overall at the sixth round of the AMA East Lites Supercross Series held at Rogers Stadium in Toronto, Canada.

Roczen, who has been battling the flu all week, had a rough start to his day and took it easy in the practice sessions so he would have as much energy as possible throughout the night show.

Roczen had a great start in his heat and maintained a great pace out front to stay inside the top three for the six lap race. He crossed the checkers in 3rd position to easily transfer to the main.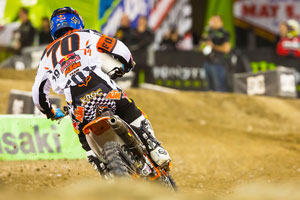 Ken Roczen had another great start in Toronto, Canada - Photo: Hoppenworld.com
In the main event he had another great start and rounded the first turn in 2nd position. Roczen quickly caught and passed Justin Barcia in the first rhythm section and crossed the first lap in the lead. He held the lead for a few more laps until he bobbled coming out of a corner and lost the position back to Barcia. He settled into 2nd place and remained in that position for the duration of the race to take a position on the podium.

After the race Roczen remarked, "I am glad that I was able to earn 2nd place tonight. This is great for my confidence after coming off of a bad race last weekend. I am going to go home and get some rest and hopefully beat this cold so I can come back stronger next weekend."

Next Race: Houston Supercross - March 31, 2012

JDR/J-Star/KTM Race Report - Toronto Supercross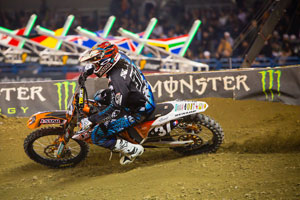 Malcolm Stewart had an up and down night, finishing 13th overall - Photo: Hoppenworld.com
JDR/J-Star/KTM rider Malcolm Stewart had an up and down night to eventually finish 13th overall at the sixth round of the AMA East Lites Supercross Series.

Stewart started the day well with one of his best qualifying times of the season. He qualified 4th fastest out of the combined practice sessions and had a good gate pick in the first Lites Supercross heat.

Unfortunately, his teammate PJ Larsen, did not have as much luck and suffered a bad crash in a rhythm section during practice. He landed on his feet as he fell from the crash which caused some damage to his foot and knee. He was unable to compete in the night show and will return to his home in California for further evaluation on Monday.

Stewart lined up at the start of the heat race ready to earn the good results he's been hunting for this season. He got a great start and was sitting in a good position within the top five. Throughout the six lap race he was able to reel in fellow KTM rider Ken Roczen and make a pass for 2nd place before the checkers flew to earn a great gate pick for the main event.

PJ Larsen suffered a bad crash during practice, and was unable to compete in the night show - Photo: Hoppenworld.com
In the main event, Stewart got off to a mid-pack start and was sitting in 10th around the first corner. He quickly began to charge but made a mistake halfway through the first lap where he ran off the track. He recovered quickly but had to reenter the course in 19th position. He went to work right away and moved up two positions before the end of the next lap. By the halfway point he had already charged back up to 11th and was closing in on the top ten. Unfortunately on the tenth lap, he made another mistake and crashed. He picked up his bike and returned to the action in 15th position. With four laps left he was able to make up two more positions and take 13th overall at the finish.

"I am bummed with my race results today," remarked Stewart. "I felt really good all day and it was unfortunate that I had two crashes in the main event that cost me a lot of positions. I feel we have made a lot of good changes to our set-up over the past few weeks and I should be a podium contender at the final races."

Next Event: Houston Supercross - March 31, 2012

Toronto Overview And Point Standings
General Overview


Crowd: 47,010

Weather: Dry

Last Years Winner: Ryan Dungey

Next Event: Houston, TX - March 31, 2012

Manufacturer Standings - 03/25/2012


Kawasaki - 273

Honda - 243

KTM - 239

Yamaha - 223

Suzuki - 165

Overall Results - Supercross Class: 20 Laps


Ryan Villopoto: 16:17.841

Justin Brayton: +9.124

Kevin Windham: +13.918

David Millsaps: +16.320

Jake Weimer: +25.316

Marvin Musquin: +36.541

Kyle Chisholm: +37.768

Broc Tickle: +38.201

Robert Kiniry: +51.539

Wil Hahn: -1 Lap

Justin Sipes: -1 Lap

Joshua Grant: -1 Lap

Mike Alessi: -1 Lap

Matthew Goerke: -1 Lap

Jimmy Albertson: -2 Laps

Jeff Alessi: -2 Laps

Kyle Regal: -3 Laps

Brett Metcalfe: -3 Laps

Nico Izzi: -10 Laps

Gavin Faith: -19 Laps

Point Standing - Supercross Class ( Race 12 of 17 )


Ryan Villopoto - 271

Ryan Dungey - 192

James Stewart - 177

David Millsaps - 169

Kevin Windham - 166

Justin Brayton - 165

Jake Weimer - 150

Brett Metcalfe - 145

Mike Alessi - 136

Chad Reed - 128

Broc Tickle - 108

Kyle Chisholm - 106

Joshua Hansen - 87

Nicholas Wey - 76

Marvin Musquin - 59

Andrew Short - 59

Matthew Goerke - 52

Robert Kiniry - 52

Weston Peick - 39

Cole Seely - 37

Overall Results - Supercross Lites Class: 15 Laps


Justin Barcia: 12:21.069

Ken Roczen: +7.439

Blake Wharton: +13.008

Jake Canada: +25.219

Darryn Durham: +28.567

Alex Martin: +37.610

Tommy Weeck: +41.120

Justin Bogle: +41.629

Matthew Lemoine: +44.047

Jeffrey Gibson: +47.116

AJ Catanzaro: +50.203

Shane Sewell: -1 Lap

Malcolm Stewart: -1 Lap

Tyler Bowers: -1 Lap

Blake Baggett: -1 Lap

Dakota Tedder: -1 Lap

Lance Vincent: -3 Laps

Kyle Peters: -4 Laps

Shawn Rife: -5 Laps

Phillip Nicoletti: -10 Laps

Point Standing - Supercross Lites East Class ( Race 6 of 8 )


Justin Barcia - 145

Blake Wharton - 117

Darryn Durham - 114

Ken Roczen - 102

Jake Canada - 90

Blake Baggett - 86

Justin Bogle - 74

Malcolm Stewart - 50

Alex Martin - 50

Matthew Lemoine - 46

Kyle Cunningham - 43

PJ Larsen - 38

Shane Sewell - 37

Les Smith - 34

Cole Thompson - 32

Hunter Hewitt - 31

Tommy Weeck - 29

Tyler Bowers - 28

Lance Vincent - 25

Phillip Nicoletti - 20