Chaparral Motorsports Launches Initiative To Use Video To Enhance Customer Experience
Chaparral Motorsports
|
March 22, 2012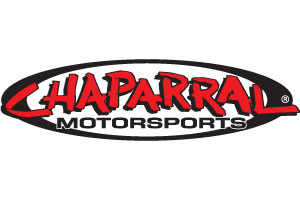 Chaparral Motorsports is pleased to announce the launch of a new video section on its website that will help customers get the information they need on the motorcycle gear and accessories that the store offers.

By going to video.chaparral-racing.com, customers gain access to dozens of videos covering a wide range of products, with more being added regularly. At the click of a button, viewers can get full product reviews for motorcycle helmets, tires, aftermarket parts and many other gear that is available through Chaparral's website.

The site also includes a broad range of "how to" guides, so motorcycle riders can ensure that they install their new purchases the correct way. This is especially useful for those who are new to riding, as there's an overwhelming amount of information they need to absorb quickly when it comes to maintaining and modifying their bike.

"Motorcycle riders are demanding a more engaging and informative shopping experience, online and in our retail store. Video creates an interactive dialogue with the shopper, and, we've found that video can effectively reach shoppers interested in a particular brand, resulting in driving more sales," states Chaparral's Vice President of Marketing, Crystal Ashby.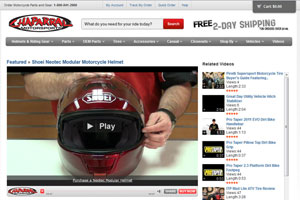 While the new video section on online superstore gives customers access to tons of information from the comfort of their own home, the feature also has in-store applications as well. Products that are displayed in store now have unique QR codes on their signage that can be read with a smartphone. Simply scan the code, and the customer will be able to instantly access the appropriate product review video online to learn more about it. Of course, Chaparral's friendly and helpful staff are still there to assist if customers have further questions.

The online experience isn't simply limited to Chaparral's website, either. New videos will be posted to YouTube, Google +, Twitter and Facebook, so those looking for the absolute latest reviews on new motorcycle accessories should be sure that they follow Chaparral on all of these social media sites. The company's Facebook page will also be updated to include a new tab that houses all of the videos in one easy place.

Chaparral Motorsports' website was already the best place to buy motorcycle accessories online, as the site offers an easily searchable database of parts, equipment, helmets, tires and much more. With the new video section, online superstore will not only be a place where riders can buy gear, but also get the information they need to make an informed decision.

Chaparral Motorsports® is recognized as one of the largest motorcycle accessory and vehicle dealerships in the country. Chaparral Motorsports now encompasses a 160,000 square foot footprint. Started as a family motorcycle parts business, Chaparral Motorsports® has developed into a multi-line motorcycle and ATV dealer, offering Honda®, Yamaha®, Kawasaki®, KTM®, Suzuki®, Can-Am, Victory®, Polaris® and Kymco ATV's, motorcycles, and utility vehicles. Check online superstore for more news and information.