Kawasaki's ZX-14R Lives Up To Claims Of Power
Chaparral Motorsports
|
March 21, 2012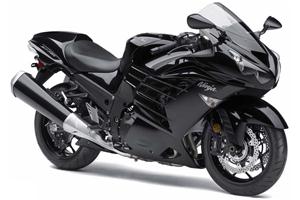 Kawasaki's 2012 Ninja ZX-14R was slated to be one of the fastest and most powerful production sport motorcycles when it first debuted in the fall of 2011. The Japanese bike manufacturer claims the ZX-14R, with its 1450cc four-stroke liquid-cooled inline-four engine, offers higher power and torque output than any other bike on the market.

Cycle World testers recently put the bike to the test at a dragstrip and were thoroughly impressed with its performance. They measured the bike to have a real-world terminal speed of 149 miles per hour in just under 10 seconds.

"It was absolutely amazing how quickly and easily the bike reaches its electronically limited 185.1 mph top speed," Don Canet, the publication's road test editor mused to the other testers. "The ZX-14R doesn't roll over on top and eke out the last few mph like most production bikes do."

The Cycle News testers concluded that this bike is far from an appropriate ride for beginners, as novice riders will likely be overwhelmed by the sheer power and thrust the bike has to offer. On the other side of things, Popular Mechanics pointed out the impracticality of the bike, as its immense power is pretty useless on public roads. This ride is great for bikers who have the time and desire to tear around on a closer track, but don't expect to see too many parked on the street any time soon.