Die-Hard Motorcycle Enthusiasts Can Ride In Style All The Way To Their Graves
Chaparral Motorsports
|
March 16, 2012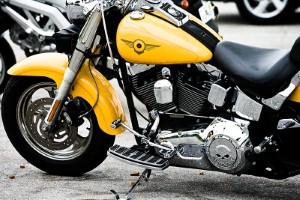 Joerg Grossman, a German motorcycle enthusiast, decided that a traditional hearse would not cut the mustard for a biker funeral and designed a motorcycle-based funeral vehicle. The Associated Press reports that Grossman started with a Kawasaki and added a sidecar fit to carry a coffin. He now has a patent for his design and 10 funeral Harleys that cost about $78,000 a piece.

Grossman told the AP that his two-wheel hearses are already garnering a lot of interest from the riding community. He expects to book up to 1,000 funerals per year in Germany, and has plans to expand to other nations, with Switzerland already signed up for the service. Taking your final ride in the Harley hearse costs about $1,600, whereas a four-wheeled hearse rental will run you about $300 on average.

If ancient Egyptian pharaohs got to be buried with their possessions, why shouldn't a motorcycle lover be able to take one last ride? This is a great way to pay tribute to a fallen biker, and it's far less creepy than having them embalmed on their bike, as one Puerto Rican man requested in his will. AutoBlog reports that David Morales Colon's will indicated that he wanted to be posed on his motorcycle for the funeral, and his family actually followed through with the unusual request.