Paul Whibley Wins GNCC Opener
Chaparral Motorsports
|
March 15, 2012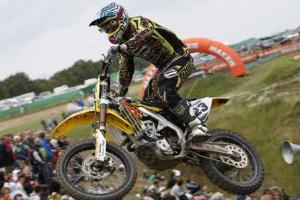 The Can-Am Grand National Cross Country (GNCC) racing series got underway this week, with the first race of the year in River Ranch, Florida. When all was said and done, New Zealander Paul Whibley took the checkered flag and started off the season with a victory.

Defending champion Charlie Mullins gave Whibley a run for his money, and the two riders traded the lead back and forth over the course of the grueling three-hour race. At one point, Whibley was five seconds ahead of Mullins, but the defending champ was able to pull within striking distance near the end. Whibley was able to hang on for the win, beating Mullins by a bike length.

"This is a good way to start the year," Whibley told Cycle News. "Mullins was riding well today, and it was a good race out there. The track was round and it got a little hot, but we were able to keep Mullins behind us when it counted."

Third place went to WMR Racing's Rory Mead, who was up at the front with Mullins and Whibley for much of the race and actually led at several points. However, Mead fell off the pace near the end of the race and had to settle for third. It was the first time Mead managed to get on the podium in a GNCC race.