Allstate Debuts Custom Bikes To Promote Safety At Daytona Bike Week
Chaparral Motorsports
|
March 14, 2012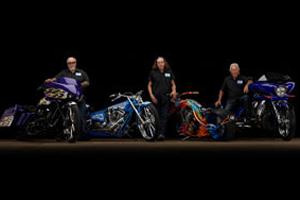 Just in time for Daytona Bike Week, Allstate Insurance announced the details of four custom-built bikes that will be on display during the Florida motorcycle event. These motorcycles are the result of the very first collaborative effort between three famous bike builders - Rick Fairless, Dave Perewitz and Arlen Ness. Each bike has a special focus on rider safety and protection

"These four beautiful and elaborate creations tell a unique story about out motorcycle product, industry innovations and rider advocacy efforts," said Keith Ruthman, vice president of Allstate's Consumer Household department. "All of these attributes - including safety, customization and advocacy - aim to make the world a better place to ride."

Ness built two bikes for the project, one of which is a 2012 Victory Cross Country that will be used for a sweepstakes giveaway that fans can enter online or at any rally where the bikes will be on display. Fairless' custom motorcycle promotes the Allstate Once is Never Enough (ONE) program that is designed to encourage rider safety on the road. The bike built by Perewitz features a Kicker sound system and custom artwork by Keith Hanson.