2012 AMA Supercross Daytona Results
Chaparral Motorsports
|
March 12, 2012
James Stewart Wins Daytona Supercross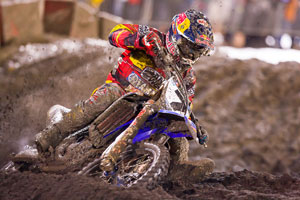 James Stewart rode a muddy track to victory - Photo: Frank Hoppen
James Stewart has struggled in the past few AMA Supercross races with crashes and mistakes that have cost him points, but there were no such issues during a wet and wild AMA Daytona Supercross.

Riding on a muddy track, Stewart and his teammate Davi Millsaps jumped out in front early on, with Millsaps grabbing the holeshot. Stewart eventually passed his teammate, however, and built up a big lead in a dominant performance. When all was said and done, Stewart was seven seconds in front of Millsaps, who finished second.

"It's good to finally get a win for the team," said Stewart. "I got a good start and that was the difference."

Points leader Ryan Villopoto, meanwhile, looked like Stewart has these past few weeks. The rider got a poor start and then suffered a crash, going all the way back to last place at one point. However, Villopoto rode hard and weaved his way through the pack to make it all the way back to fifth place by the end of the race, minimizing the damage to his standings.

Villopoto is now up 44 points on Stewart in the overall standings and 29 ahead of Ryan Dungey, who recently broke his collarbone and missed the Daytona race.

Fantastic 1-2 For JGRMX At Daytona SX Mudbath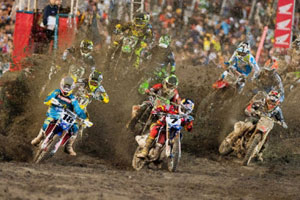 James Stewart won his second victory of the season in extremely difficult conditions.
James Stewart took his JGRMX Yamaha YZ450F to a second AMA Supercross victory of the season in extremely difficult conditions at Daytona for round ten of seventeen in the series (also an FIM World Championship).

The former champion finished on top of the podium after triumphing through a shortened Main Event (sixteen laps instead of the normal twenty) that was blighted by heavy rainfall and saw the elongated circuit in the Daytona Motor Speedway infield become rough, choppy and virtually flooded. Stewart finished ahead of team-mate Davi Millsaps who claimed his first top three classification in two years.

It was Millsaps who aced the holeshot but was overtaken by Stewart - who had set the fastest lap by three seconds from the next rider in Timed Practice - inside two circulations and 'JS7' escaped to win the prestigious event in his home state.

"It was a tough and gnarly race," said Stewart who now has 44 victories in the class and has tied with Jeremy McGrath in second place on the All-time SX/MX win list with 89. "Practice went really well, we set a good lap, won the heat race and got a good start. It was amazing and special to win Daytona for the second time."

"It means a lot for us to get a win and to go 1-2 as a race team," he added. "We had a lot of...I wouldn't say bad luck but we had some struggles with starts - at least I have - and then some weird things happening. I've been saying if I got a start I felt like I could win one of these things. So tonight it was definitely good enough for me. So, I'm stoked."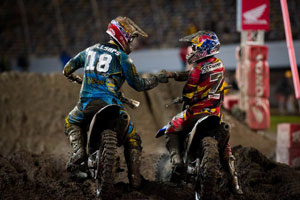 James Stewart and Davi Millsaps congratulate each other on their dual podium - Photo: Frank Hoppen
"I'm definitely not going to complain about that start," commented Millsaps. "I had a clean track but I saw James was going a lot faster. I'm just pumped to be up here. I held in here and did my best. This is the first time I've been on the podium since 2010 in Supercross. It's special, especially being here in Daytona and how the conditions were, and all my family and friends coming to this race. It was definitely a good one for me."

With the absence of Ryan Dungey through a collarbone injury, Stewart is now just 15 points from second place in the standings and 44 behind leader Ryan Villopoto. Millsaps is sixth. Kyle Cunningham was seventh on the YZ250F at Daytona for what was the fourth outing for the East Coast Lites competition.

Round eleven takes place in the Lucas Oil Stadium of Indianapolis next Saturday.

Source: www.yamaha-racing.com


Marvin Musquin Impresses At Daytona Supercross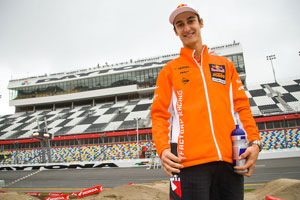 Marvin Musquin put in one of his most impressive performances to date at the Daytona Supercross - Photo: Hoppenworld.com
In a race where only the tough survived, Red Bull/KTM rider Marvin Musquin put in one of his most impressive performances to date after earning a 4th place finish in the Supercross class aboard his KTM 350 SX-F at the Daytona Supercross.

Musquin finished 9th last weekend at the St. Louis Supercross in only his first Supercross class race on the KTM 350 SX-F. Just one week later, Musquin powered his KTM to the front of the pack early and took a 4th place result in front of the Florida race fans.

Heavy rainfall throughout the day had flooded the course causing mechanical issues and multiple crashes for many riders. Musquin proved he had the technical skill and physical strength to handle the extreme conditions in order to keep out of trouble.

Musquin was placed in the second heat race where he earned a great start and went on to finish 3rd overall. His heat finish earned him a great gate pick as the riders began to line the gate for the main event.

His gate pick paid off and Musquin pulled another decent start in the main event. The worsening track conditions caused the AMA officials to reduce the amount of laps in the main event from 20 to 16 laps. Musquin came around the first lap in 4th place. At the midway point he began to close in on the 3rd place ride of Kevin Windham. Unfortunately, Musquin had a small spill causing him to lose the time he had gained on Windham. Musquin recovered without losing a position and held on to 4th place through the checkers.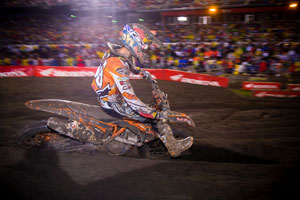 Marvin Musquin rode consistently, placing fourth overall - Photo: Hoppenworld.com
"I had so much fun in this race," stated Musquin. "The conditions were tough but it was so fun. I am really disappointed my teammate, Ryan Dungey, couldn't be here and I tried to do well for him tonight. It would have been nice to be on the podium but I am really happy to get this close. I want to thank my team and my mechanic for helping to prepare my bike for a race this challenging."

Musquin's teammate, Ryan Dungey, remains 2nd in the series point standings despite not racing the Daytona Supercross. Dungey is currently at home healing up from a surgery to plate his collarbone. He plans to return to racing when he is 100% which is estimated to be within the next 4-6 weeks.

Next Event: Indianapolis, IN - March 17, 2012

Brett Metcalfe Splashes To Daytona Top 10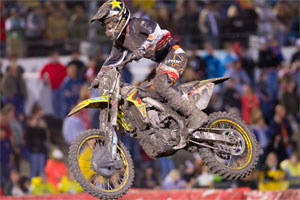 Brett Metcalfe battled inclement weather and a rain-ravaged track, finishing in the top 10.
Yoshimura Suzuki Racing battled inclement weather and a rain-ravaged motocross-style track at the 10th round of the 2012 AMA/ FIM Supercross Series at Daytona International Speedway at Daytona Beach, Florida on Saturday night as Brett Metcalfe weathered the storm and raced his Suzuki RM-Z450 to a solid 10th place.

Although race day started out relatively dry, the bad weather was literally looming on the horizon, and, as a result, the riders had to make do with less practice time and abbreviated races. When the rain finally hit, it created a rutted, muddy mess of a track.

"Daytona was interesting," said Metcalfe. "The weather really challenged us. The first practice was pretty good and in dry conditions. Then the rain came in and really changed the whole dynamics. We had a pretty tough track; it was muddy and very rutty. We were still able to do the jumps, but it was a tough little track."

Despite the treacherous conditions, Metcalfe did what he had to do to bring home maximum points. In his heat race, he went down early but rallied to race his Yoshimura Suzuki RM-Z450 to sixth position and transfer to the Main. In the shortened 16-lap Main Event, Metcalfe also suffered a get-off but remounted and put in a smart ride that allowed him to finish with a top-10 result.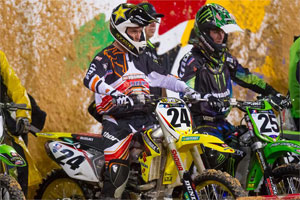 Brett Metcalfe did what he had to do to bring home maximum points.
"Practice went OK and I was feeling pretty comfortable," said Metcalfe. "I was charging on the track and I had some attack in me. With a Main Event that's muddy and you don't know what's going to happen, you really need a good spot on the start gate to do something, so I was still pretty confident going in. But on the second or third lap, I went down and I dropped back a bit. I just couldn't get it going after that, and I dropped back a few more and finished 10th. The Yoshimura Suzuki RM-Z450 was running good and made it through the whole race. The most positive thing was that we got through something that could have made us take a DNF."

With Daytona safely behind them, Metcalfe and the Yoshimura Suzuki squad are looking forward to getting back to racing a more Supercross-style track at an indoor venue.

Said Metcalfe: "I just want to go back home and forget about this mud race, where you can't really learn or take anything from it. We'll just have a regular week at home and get ready for Indy next weekend. I'm looking forward to getting back to good racing and getting up there in the results."

Team Yoshimura Suzuki Racing's next event is the 11th round of the 2012 AMA/ FIM Supercross Championship on Saturday, March 17th, at Lucas Oil Stadium in Indianapolis, Indiana.

Ryan Dungey Breaks Collarbone, Misses Daytona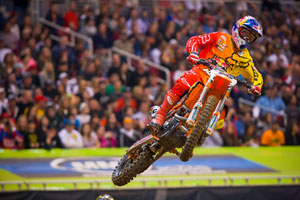 Ryan Dungey insisted on racing in St. Louis, despite a broken collarbone. He finished 2nd overall - Photo: Hoppenworld.com
Red Bull KTM rider Ryan Dungey's championship hopes took a serious blow when he suffered a broken collarbone last week before the St. Louis Supercross.

Dungey fell while practicing before the race, and the team knew he had slightly cracked the collarbone. However, Dungey insisted on riding and amazingly finished in second place. When Dungey later went to doctors to have the injury looked at, it was revealed that his collarbone was completely broken.

"This is hard for everyone on the team," said team manager Roger DeCoster in a release. "Ryan has done an amazing job adapting to a completely new bike this year. Through the process he has won two Supercross races and has finished on the podium at seven of nine races. He was well in the thick of the championship hunt at the midway point in the series. His gutsy performance in St. Louis and determination to keep racing despite his injury is a testament to his dedication to the team."

Dungey opted to have surgery on the collarbone and missed the Daytona Supercross while recovering. The team has not revealed a timetable for his return. Dungey is currently in second place in the overall standings, but will need to get back on the track quickly if he hopes to catch points leader Ryan Villopoto.

Justin Barcia Keeps Streak Alive With Muddy Win In Daytona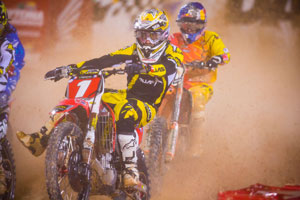 Justin Barcia kept his unbeaten streak alive with his fourth straight win - Photo: Frank Hoppen
Justin Barcia kept his unbeaten streak alive this weekend when he notched his fourth straight win at the AMA Daytona Supercross.

The race was held on the infield of the famous Daytona racetrack, but much like at the NASCAR event this year, the weather was not cooperating. Heavy rain soaked the track before the race got underway, leaving riders with a muddy mess to deal with.

It didn't seem to bother Barcia, who earned the holeshot and was neck-and-neck with Blake Baggett going into the first turn. Barcia pulled ahead by the end of the first lap and quickly built up his lead, which grew to eight seconds at one point.

However, Baggett rode hard and closed the gap on Barcia in the waning laps of the race. In fact, Barcia's bike began wobbling at one point and Baggett had an opportunity to pass, but he had his own minor wobble to deal with. That allowed Barcia to hang on for the win.

Barcia has now won all four races in the Supercross Lites East class thus far and looks to be the heavy favorite with just a few more competitions on the schedule.

Ken Roczen Earns 4th At Daytona Supercross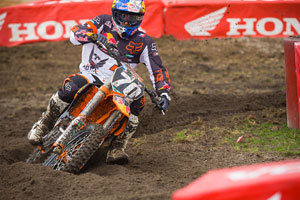 Ken Roczen put together a solid run under the worst conditions seen this season - Photo: Hoppenworld.com
Red Bull/KTM rider Ken Roczen put together a solid run under the worst conditions seen this season to earn a 4th place finish for his team at the Daytona Supercross.

Rain throughout the day led to a track that was nearly flooded when the night program began. Riders were turning lap times just under 1 minute and 27 seconds in the practice sessions and by the end of the evening the quickest time was near the 1 minute 40 second mark.

Roczen had a great start in his heat but a crash on the opening lap dropped him to 10th place. He quickly recovered and came back to pass his way into 4th to easily transfer to the main event.

He found himself up front again in the main event. He rounded the first corner in 5th place and immediately set to work pressuring the 4th place ride of Alex Martin. By the second lap he had moved around Martin and began working on Blake Wharton. After another strong lap he was able to triple past Wharton to move into podium position. He remained in 3rd place until the end of the race when he made a small mistake that cost him the podium. He managed to get back into his line and salvage 4th place in a night where many people struggled to finish.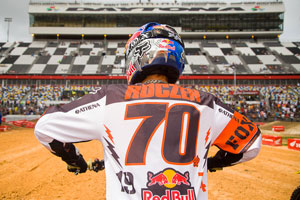 Ken Roczen is third in overall points, just one away from second - Photo: Hoppenworld.com
"Tonight was the hardest race I have ridden," remarked Roczen. "Everything was wet and slippery. It was so hard to hold on to the grips. It was even hard to not slip off my seat. It was definitely a challenge and I am happy to finish safely."

Next Event: Indianapolis, IN - March 17, 2012

JDR/J-Star/KTM Race Report - Daytona Supercross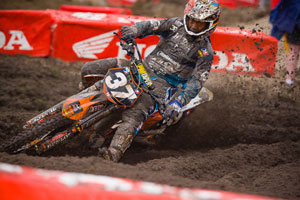 Malcolm Stewart finished 8th overall, overcoming horrible riding conditions - Photo: Hoppenworld.com
JDR/J-Star/KTM riders Malcolm Stewart and PJ Larsen finished 8th and 16th respectively at the fourth round of the AMA Supercross Series held at Daytona Speedway under horrible riding conditions.

The course went from dry to completely soaked throughout the evening as rainfall continued to pour into the evening hours. Larsen was first to challenge the muddy race course in the first heat. He had a pretty clean start and managed to quickly break into the top five. After six laps he moved into 4th and easily transferred to the main.

Stewart was placed in the next heat. He had a decent jump off the start but went down early. "After I crashed, my goggles filled with so much mud I had to get rid of them," remarked Stewart. "After that my eyes filled with so much dirt I couldn't see and I had to pull off." Stewart didn't finish the heat race and quickly returned to the pits to prepare for the LCQ.

Stewart earned a 3rd place start in the LCQ and quickly moved into qualifying position. He finished the race in 2nd place taking the final transfer spot to the main.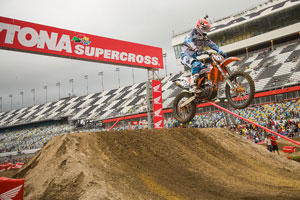 PJ Larsen suffered a crash off the start, finished 16th overall - Photo: Hoppenworld.com
Despite having last gate pick in the main event, Stewart pulled off a decent start. He came around the first corner mid-pack and quickly moved into the top ten. He managed to stay upright the entire evening despite the conditions that were causing many riders to get stuck in mud holes or crash in the deep ruts. Meanwhile, Larsen had suffered a crash off the start and was sitting in last position. He climbed up as high as 15th before he slid out in another incident and dropped back to 17th. He was able to climb up one more position before the checkers to earn 16th. Stewart held on to finish 8th overall for the night.

"Considering the conditions, I am pretty happy to finish and not have any major issues," remarked Stewart. "I would have liked to finish inside the top five but it was hard to make progress on the riders that got out front early. I am happy to earn some points and hope to keep improving next weekend."

Next Event: Indianapolis, IN - March 17, 2012

Daytona Overview And Point Standings
General Overview


Weather: Wet

Lap Record: 0:52.126 (James Stewart, 1/1/2006)

Last Years Winner: Ryan Villopoto

Next Event: Indianapolis, IN - March 17, 2012

Manufacturer Standings - 03/11/2012


Kawasaki - 223

KTM - 210

Honda - 199

Yamaha - 185

Suzuki - 139

Overall Results - Supercross Class: 16 Laps


James Stewart: 24:46.540

David Millsaps: +7.573

Kevin Windham: +19.499

Marvin Musquin: +35.855

Ryan Villopoto: +44.230

Mike Alessi: +1:04.726

Jake Weimer: +1:09.664

Broc Tickle: +1:10.781

Matthew Goerke: +1:18.567

Brett Metcalfe: +1:30.472

Nicholas Wey: -1 Lap

Kyle Chisholm: -1 Lap

Kyle Regal: -1 Lap

Gavin Faith: -1 Lap

Justin Sipes: -1 Lap

Justin Brayton: -2 Laps

Cole Seely Murrieta: -3 Laps

Ryan Clark: -3 Laps

Weston Peick: -8 Laps

Robert Kiniry: DNF

Point Standing - Supercross Class (Race 10 of 17)


Ryan Villopoto - 221

Ryan Dungey - 192

James Stewart - 177

Kevin Windham - 143

Jake Weimer - 134

David Millsaps - 131

Chad Reed - 128

Brett Metcalfe - 124

Justin Brayton - 121

Mike Alessi - 113

Kyle Chisholm - 91

Joshua Hansen - 87

Broc Tickle - 82

Nicholas Wey - 76

Andrew Short - 59

Matthew Goerke - 38

Robert Kiniry - 32

Marvin Musquin - 30

Kyle Partridge - 29

Weston Peick - 27

Overall Results - Supercross Lites Class: 12 Laps


Justin Barcia: 18:10.228

Blake Baggett: +2.537

Darryn Durham: +56.423

Ken Roczen: +1:09.798

Blake Wharton: +1:26.508

Jake Canada: +1:30.753

Kyle Cunningham: -1 Lap

Malcolm Stewart: -1 Lap

Cole Thompson: -1 Lap

Tommy Weeck: -1 Lap

Les Smith: -1 Lap

Shane Sewell: -1 Lap

Alex Martin: -1 Lap

Tyler Bowers: -1 Lap

Justin Starling: -1 Lap

PJ Larsen: -1 Lap

Kyle Peters: -3 Laps

Justin Bogle: -3 Laps

Jeffrey Gibson: -7 Laps

Phillip Nicoletti: -10 Laps

Point Standing - Supercross Lites East Class (Race 4 of 8)


Justin Barcia - 100

Darryn Durham - 76

Ken Roczen - 75

Blake Wharton - 72

Blake Baggett - 62

Jake Canada - 56

Justin Bogle - 46

Malcolm Stewart - 42

Kyle Cunningham - 42

Cole Thompson - 32

Hunter Hewitt - 31

PJ Larsen - 31

Alex Martin - 29

Les Smith - 22

Lance Vincent - 21

Shane Sewell - 20

Matthew Lemoine - 20

Phillip Nicoletti - 19

Austin Politelli - 15

Tommy Weeck - 11