Victory's Newest Bike, The Judge, Unlike Any Other Bike In The Fleet
Chaparral Motorsports
|
March 9, 2012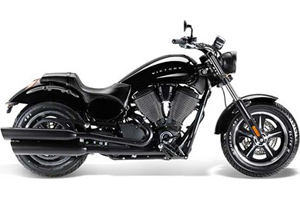 The all-new Victory Judge cruiser motorcycle is being lauded as another success for the bike company - one that heads in a different direction than the other models in Victory's lineup. The Judge's design was based on the styling of classic American muscle cars. The 16-inch five-spoke wheels really drive this point home, especially when paired with a set of premium Dunlop Elite II tires.

The 106-inch, 50-degree V-Twin engine provides a healthy helping of power. Victory claims the engine can generate up to 188 lb-ft of torque, but Cycle World indicates their test run maxed out around 96 lb-ft at 1960 RPMs, which is still pretty good. When it comes to transmissions, the Judge is equipped with the same six-speed overdrive as the High Ball, but the news publication reports this model is easier to shift, and quieter too.

The Judge outdoes Victory's Hammer lineup as well as the High Ball bikes. Ultimate Motorcycling reports the seat of the new cruiser is a full inch lower than that of the Hammer S. A low center of gravity is one of the more highly sought-after features of cruising bikes.