2012 AMA National Enduro Sandlapper Results
Chaparral Motorsports
|
March 6, 2012
Cory Buttrick Wins Sandlapper National Enduro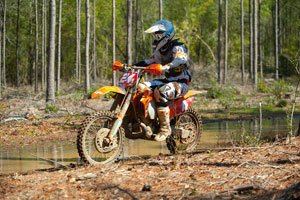 Cory Buttrick took his first win in a dominating fashion - Photo: Shan Moore
Factory FMF/KTM rider Cory Buttrick took his first win in a dominating fashion at the third round of the AMA National Enduro Series held in Salley, SC.

When the scores were tallied there was no doubt that Buttrick was the strongest rider of the day. He won two of the six special tests and took the victory by a margin of 38 seconds over fellow KTM rider Steward Baylor. From the start to the finish Buttrick held the lead until he was finally awarded his first season win at the conclusion of the sixth test.

This win marks the 20 year-old's third career AMA National Enduro win. "It feels really good to come out here and finally get a win," remarked Buttrick. "I feel like all of my training and discipline has been paying off back home and I have finally proven it on the track. My goal this year is to win the championship and this win helps point me in the right direction."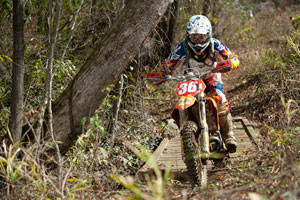 Steward Baylor was awarded 2nd and is still the points leader - Photo: Shan Moore
Buttrick's teammates Russell Bobbitt and Kailub Russell put together two impressive rides to remain locked in battle throughout the entire race with 4th place eventually going to Bobbitt and 5th to Russell. The final member of the Factory FMF/KTM Team, Charlie Mullins, also had a strong start to his day. He was sitting inside the top five throughout most of the tests until he had a mechanical problem on the fifth test of the race and had to withdraw from the competition.

The Factory FMF/KTM boys will now take a five week break before the fourth round of the season which will be held in West Point, TN on April 22, 2012.

Overview And Point Standings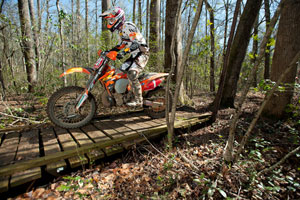 Russel Bobbitt put together an impressive ride, taking 4th place - Photo: Shan Moore
Overall Results - Supercross Class: 20 Laps



Cory Buttrick

Steward Baylor

Mike Lafferty

Russell Bobbitt

Kailub Russell

Thad Duvall

Jordan Ashburn

Brad Bakken

Jesse Groemm

Shane Hufford

Nick Fahringer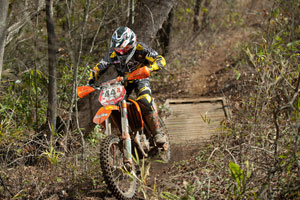 Kailub Russell dueled with Russell Bobbitt throughout the entire race, ending with 5th place - Photo: Shan Moore
Overall Point Standing



Steward Baylor - 85

Cory Buttrick - 73

Mike Lafferty - 67