Two New Products For Kawasaki KX Owners
Chaparral Motorsports
|
March 1, 2012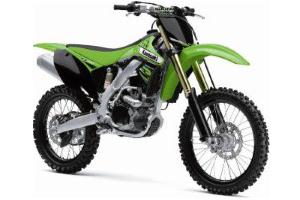 The Kawasaki KX models are some of the most popular vehicles on the market among dirt bike enthusiasts, and many riders like to customize their bikes with aftermarket motorcycle parts. Two companies recently released several optional upgrades designed to work with the KX bikes, and they're worth looking into for performance fans, reports Cycle News.
First up is a new set of mufflers from Yoshimura designed specifically for the KX250F. The RS-4 and RS-4D are made of titanium or carbon fiber and come in a variety of sizes. The RS-4 is the base version and is available in both slip-on and full system version, in either material. The RS-4D is slightly more expensive and is only available as a full system upgrade, but comes with an ultra-lightweight carbon-fiber end-cap.
Those who have ridden a KX85 or KX100 may have come across the issue of stabilizing the bike on a normal dirt bike stand, and that's where the second product comes in handy. Manufactured and distributed by Baxtek, the Quik85 attaches to the top of a normal dirt bike stand and provides a surface that's custom fitted to the contours of the bike. That ensures that the bike stands up with no hassle, which is likely something that many dirt bike riders will appreciate when they want to take a quick break.