KTM Announces KTM/HMC Superbike Racing Team
Chaparral Motorsports
|
February 10, 2012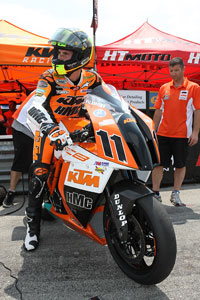 KTM Motorsports is proud to announce the KTM/HMC Superbike Racing Team which will mark KTM's first full-time Superbike racing effort in the United States.

The KTM/HMC Superbike Racing Team competed at three of the AMA Pro Superbike Road Racing Championship Series events last season and will return for the entire series for 2012. The team will be headed by HMC Racing owner, Mitch Hansen, and will be taken to the track by Chris Fillmore.

The famous duo, Hansen and Fillmore, both have an extensive history with the KTM brand. Hansen led the HMC/KTM Supermoto Team to 10 National Championships from 2003-2009 and was also the face behind the U.S. Red Bull Rookies Cup effort from 2008-2009. Fillmore raced for the HMC/KTM Supermoto Team at the young age of sixteen in 2003 and again in 2008 where he finished 2nd overall in the AMA Pro Supermoto Championship while also competing on the KTM 990 Super Duke in select events.

The two paired up last season during the final few AMA Pro Superbike Road Racing events and earned the KTM 1190 RC8 R Race Spec bike its best Superbike racing finish with a 7th place result at the Lexington, OH round. KTM will back their effort once again, but this time for the full season of Superbike racing. "We were very proud of what HMC and Chris accomplished in 2011, entering the highly competitive Superbike class in the middle of the season. We feel confident in our HMC program, Fillmore and the RC8 R that we will see even more success during the 2012 season," remarked KTM Product Line Manager John Hinz.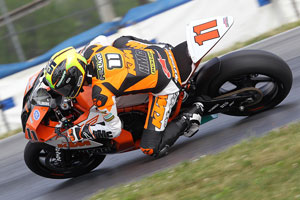 Hansen is equally excited to return to racing, commenting, "We have been tied to the KTM brand for many years now and this level of racing is what we both have aimed for. We are proud to represent KTM and their Superbike at the national level and look forward to showing the U.S. market what the bike is capable of."

Fillmore will compete aboard the KTM 1190 RC8 R Race Spec motorcycle. "I have been testing the RC8 since it first arrived in the states and the Race Spec bike is very competitive," remarked Fillmore. "I am very excited to be racing in the Superbike class again and am looking forward to competing in a full season and improving on our success from last year.

The RC8 R Race Spec motorcycle was launched in the U.S. in 2011 as a new production model built specifically for competition use and returns again for 2012. For more on the KTM/HMC Superbike Racing Team or for further details about the 1190 RC8 R Race Spec model please visit www.ktmusa.com.