Chaparral Motorsports Introduces Motorcycle Tire Finder
Chaparral Motorsports
|
February 6, 2012
The search for the best motorcycle tire made easy.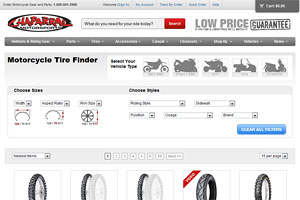 Chaparral Motorsports Features a new finder for motorcycle tires.
Chaparral Motorsports continues to bring its customers the latest technology to help them find the riding products they need, and the new online Motorcycle Tire Finder is the latest example of this. Veteran riders know that the tires on their bike can make almost as much difference as the model itself, and Chaparral wants to make the tire-buying process as convenient as possible.
There's no doubt that buying motorcycle tires can be a bit overwhelming for riders. Not only are there many different brands to choose from, but motorcycle owners need to select the correct size and style of tire for their bike and the type of riding they plan on doing. Yet searching through tire after tire is far from the most efficient way of handling this process.
That's why Chaparral has introduced the new Motorcycle Tire Finder to its website. With the click of a button, users have the ability to instantly search through the more than 10,000 different motorcycle and ATV tires that Chaparral carries. The motorcycle tire superstore has their own 30,000 square-foot warehouse, and the new search tool allows every buyer to have access to that broad selection at their fingertips, without the hassle of physically searching through every model.
"Finding the right tire is easy using our quick Motorcycle Tire Finder," states Crystal Ashby, VP of Marketing for Chaparral. "Shoppers can find the tire for their motorcycle or ATV quick, so they can get back out riding."
"Shoppers can find the tire for their motorcycle or ATV quick, so they can get back out riding"
Riders can quickly sort through their favorite brands, including Dunlop, Pirelli, Michelin, Bridgestone and many more. The search tool also allows users to organize by motorcycle tire aspect ratio, rim size, width, sidewall, tire style, riding style, usage and price. This ensures that the buyer can quickly and easily find the perfect tires for their bike, ATV or side-by-side.
Getting a new set of tires should be a fun experience, as there's nothing like breaking in some fresh wheels on a long ride. Riders have always enjoyed the feeling of increased performance that a new set of tires can offer, but the actual process of finding and buying the tires has left something to be desired. Now, armed with the power of Chaparral Motorsports' Motorcycle Tire Finder on http://www.chaparral-racing.com, riders can easily find the tires they're looking for and get back out on the road.
Chaparral Motorsports® is recognized as one of the largest motorcycle dealers in the country, offering a great selection of motorcycle parts, accessories, motorcycle gear, and motorcycle tires. Chaparral Motorsports now encompasses a 160,000 square foot footprint. Started as a family motorcycle parts business, Chaparral Motorsports® has developed into a multi-line motorcycle and ATV dealer, offering Honda®, Yamaha®, Kawasaki®, KTM®, Suzuki®, Can-Am, Victory®, Polaris® and Kymco ATV's, motorcycles, and utility vehicles.