Ned Suesse Claims Doubletake Mirror Is "Indestructible"
Chaparral Motorsports
|
February 1, 2012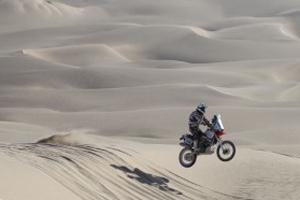 Ned Suesse is a famous motorcycle racer, but he also has another title that many don't know about: inventor.
Suesse has ridden in famous races like Pikes Peak, the Baja 500 and the Best in the Desert Vegas. Several weeks ago, he was the only American to actually finish the grueling Dakar competition in South America. Thus, Suesse knows a thing or two about riding in tough conditions.
The rider is also the creator of the Doubletake Mirror, which he recently used during his entire time in Dakar, reports Cycle News. This mirror attaches to the top of the handlebar and offers the rider excellent visibility. The arm of the mirror is entirely adjustable, so riders can see everything going on behind them.
What's more, Suesse claims that the mirror is indestructible, according to the news source. The arm will not move, even at triple-digit speeds, but if the assembly is struck while riding, Suesse says it will not break. Obviously, the glass insert of the mirror is not included in this claim. The rider guarantees the part for life and provides a full warranty with every mirror. He also offers riders a full refund if they are ever unhappy with the mirror.