Jorge Lorenzo Fastest In First Sepang Test
Chaparral Motorsports
|
February 1, 2012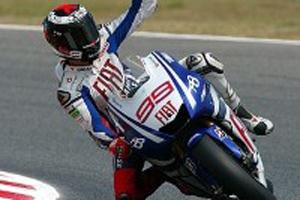 MotoGP's first test of the season got underway in Sepang, Malaysia, and the results were encouraging for Yamaha, which dominated the top of the standings.

Jorge Lorenzo was the fastest overall, just edging out fellow Spaniard Dani Pedrosa in second place, who was riding for Honda. Yamaha's other riders, Cal Crutchlow and Ben Spies, were third and fourth fastest, respectively.

It was an encouraging test for Valentino Rossi, who is coming off of a down year. Rossi was in fifth aboard the new Ducati GP12, a bike that has been the subject of criticism the past few months as the Italian manufacturer's engineers worked down to the wire to get it ready in time.

Pedrosa told Agence France-Presse that he didn't think the early tests meant all that much, as most riders were still adjusting to their bike.

"I am focused on myself. I was most of the time alone on the track and was not mixing with the other MotoGP riders," he said. "I hope to do better tomorrow. Tomorrow we will start [to find] the proper setting of the bike,"

One notable absence during the test was defending champion Casey Stoner, who left with a mild back injury. Stoner, who was 14th at the time of his departure, plans to be back on the track tomorrow.

There was a solemn moment before the test began as the assembled riders honored Marco Simoncelli. Honda officials laid a wreath where the rider was killed during a race last year.