Casey Stoner At Sepang
Chaparral Motorsports
|
February 1, 2012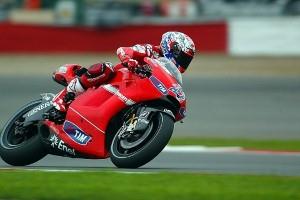 All the MotoGP riders were at the track in Sepang, Malaysia, for the very first test of the year, but most eyes were on Casey Stoner. The defending champion unveiled his Repsol Honda RC213V at the event with the new "No. 1" plate that he earned last season.

Unfortunately, it was a short day for Stoner, reports Cycle News. The Australian rider managed to get a few laps in on the bike, but aggravated a pre-existing racing injury in his back while he was stretching. Stoner had the 14th best time when he decided to withdraw and rest up back at the hotel. The rider says he plans to return for the final two days of the test.

Although he decided to retire early, Stoner was able to give his thoughts on the difference between the 800cc bikes from last year and this year's 1000cc models, which MotoGP is switching to for the upcoming season.

"Thus far, the engine feels fantastic, but I think anything will feel great after an 800 for a while," he told the news source. "Until we start really racing these hard and then that's when you'll start to try and reduce all the small problems or all the small differences in the engine."