Victory Unveils New Judge
Chaparral Motorsports
|
January 31, 2012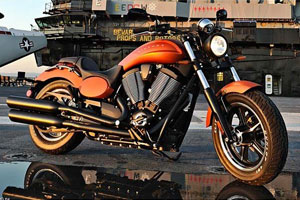 Victory has pulled the lid off of their all-new Victory Judge, and while the model bears some similarities to past Victory models, it's a wonder what a new paint job can do.

The Judge is a power cruiser much like the company's Hammer S, and also sports specifications similar to the Victory Vegas. However, there's no mistaking the Judge for another model. With a brand new Suede Nuclear Sunset orange paint job and five-spoke wheels reminiscent of the famous Pontiac GTO Judge, the new motorcycle immediately makes an impression in photos. The bike also has improved bodywork to really make it stand out from the crowd.




It's not all style with no substance, however. The Judge features a 106 cubic inch Freedom V-Twin engine that's rated at 113 lb-ft of torque with about 85 horsepower. This engine is found on many other Victory models, so fans of the brand should find it instantly familiar. It also features the six-speed overdrive gearbox, another Victory staple. Big tires, drag bars and mid-mounted controls with a round headlight give the bike a look that mixes "mean" with "classic."

The new Judge will retail for $14,000, with an extra $400 for the orange or red paint schemes.