Kawasaki Launches "Adventure Hunters" Site
Chaparral Motorsports
|
January 31, 2012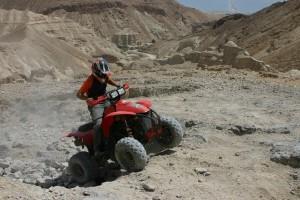 Kawasaki has launched a new website focused on their various ATV and side-by-side offerings, including videos of the vehicles in action. The manufacturer is calling the new site "Adventure Hunters."

So far, "Adventure Hunters" seems to refer to a group of riders who tackle some of the toughest terrain in the country. The first video on the website shows a group of four riders, known as "Frank and the Boys," tackling the tough terrain of Moab, Utah. The entire team appears to be outfitted with Kawasaki Brute Force 750 4X4I EPS ATVs in the short piece.

This model features electronic power steering, an independent rear suspension, plenty of room for storage, and a new digital instrumentation gauge for the 2012 model. The vehicle also comes with a 750cc V-Twin engine with upgraded cam shafts and a stainless steel exhaust.

While the Brute Force 750 is the only model thus far to get its own video series, several other products are on the site as well, namely the company's range of side-by-sides. The Mule and Teryx both have their technical specifications listed on the site, and the new Teryx4 is up as well. Kawasaki has not tipped their hand yet about future plans for the site, but it's a safe bet that the "Adventure Hunters" will be taking these models out for a spin sometime soon.