2012 AMA Supercross Oakland Results
Chaparral Motorsports
|
January 30, 2012
James Stewart Scores Emotional Victory In Oakland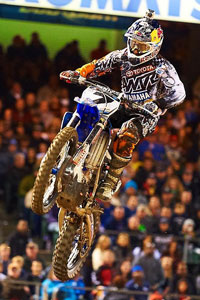 James Stewart makes an emotional win - Photo: Frank Hoppen
Just days after his mechanic, Mark "Tex" Adams, was struck and killed by a vehicle, James "Bubba" Stewart rode to his first win of the season in AMA Supercross.

Australian rider Chad Reed jumped out in front early, but Stewart rode strong and kept pace with him for several laps. "Bubba" made his move on lap nine and Reed was never able to regain the lead.

"I would like to dedicate this win to my mechanic, Mark 'Tex' Adams, who passed away this week," said Stewart. "I got in a rhythm out there tonight and put together a great race. I had a tough couple of races this year, and tonight I got it done."

Stewart, who won the same race last year, became the fourth different rider to win this season in as many races. That's created a close battle at the top of the points standings. Reed and Ryan Dungey, who finished second and fourth at Oakland, respectively, are tied with 85 points apiece. Defending champ Ryan Villopoto finished third at Oakland and is third in the standings, just two points behind Reed and Dungey. Stewart is now in fourth place, 10 points behind Villopoto.

More Double Podium Joy As James Stewart Wins In Oakland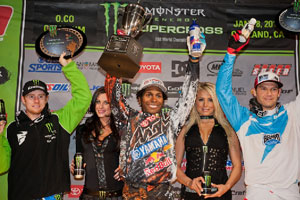 2012 AMA Supercross Oakland Podium
For the second consecutive week YZ450F technology made an impression on both SX and West Coast Lites podiums in the AMA Supercross series (also an FIM World Championship). The Overstock.com coliseum in Oakland was the scene of the fourth round of seventeen and also witnessed JGRMX's James Stewart earn his first victory of the year and first for his new team with the YZ450F.

Stewart was the fourth different winner of the season so far (after finishing third in LA last week) and reached the chequered flag in the twenty lap main event by over two seconds from Chad Reed in what was an emotionally charged evening in the wake of the tragic accident to the Floridian's training mechanic Mark Adams on Thursday morning. The former champion took part in a thrilling battle with Reed and reigning champion Ryan Villopoto in the formative stages of the race but after squeezing past the Australian was able to maintain a gap to seal his triumph in front of more than 46,000 spectators.

"Tonight I got up front and kind of stayed out of trouble," commented the rider who is now fourth in the SX class and 12 points behind leaders Reed and Ryan Dungey. "I felt Ryan there and just tried not to over-ride the track. I was able to get on the inside of Chad going across the start. It worked out. I was not really riding too hard, just trying to make sure I hit the marks good."

"I knew it was a track you just kind of had to be patient on," he added. "But I think we had the setup a little bit better for me tonight. Those three crashes the first three races tore me up. But tonight in the Main Event I just pulled it together. So, it was awesome. Especially with my mechanic being lost this week it was definitely tough. This was definitely special."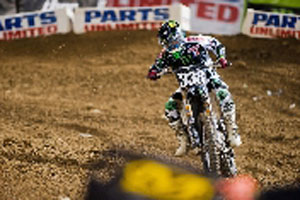 Zach Osborne finished his four round appearance third in overall standings.
In the Lites Monster Energy Yamaha's Zach Osborne signed off his impressive four-round appearance in the AMA competition by taking his second trophy on the bounce with the YZ250F that he will steer in the 2012 MX2-GP FIM Motocross World Championship. The 22 year old grabbed third position nine days ago in Los Angeles and made the box again with another third place in Oakland.

"I'm really happy and I think all of this is going to be good for my GP program," he said. "We put a lot of work into suspension. We have a really good setting and I think the bike is really good. I feel super comfortable on it and I can't thank those guys enough for putting in a lot of time and effort and making it happen for me, too."

Osborne will shortly travel back to Europe to begin preparation for the Grand Prix campaign but departs the West Coast Lites series third in the standings and with some valuable confidence and race-time under his belt.

The entertaining AMA contest rolls back into Los Angeles and the Angel Stadium at Anaheim this week.

Source: www.yamaha-racing.com

Ryan Dungey Maintains Red Plate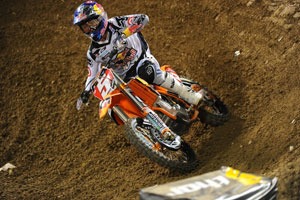 Ryan Dungey still the points leader after placing 4th in Oakland - Photo: Hoppenworld.com
Red Bull/KTM Factory rider Ryan Dungey successfully maintained the red number plate after a hard-fought 4th place finish at the fourth round of the AMA Supercross Series held at Oakland Coliseum.

Dungey had a strong showing at Oakland in the early afternoon, earning the 2nd fastest lap time of the combined practice sessions. He topped his impressive practice time with his first heat win of the season in the opening SX class heat race. He led the heat holeshot to checkered flag to earn the top gate pick in the main event.

In the main event Dungey suffered a poor start off the gate and rounded the first corner in 12th position. He quickly began to pick off riders while the lead pack was beginning to pull away. By the halfway point he had passed into the top five and by the twelfth lap of the race he had passed Andrew Short for 4th position. His speed and stamina were impressive throughout the twenty lap main but his time spent through the pack had allowed the top three to pull out of reach. He finished a strong 4th place overall, and in doing so, was able to maintain his red number plate for another round. This will mark the third round in a row that Dungey has held the points lead and been given the honor to represent the red number plate.

"I'm bummed that I didn't land on the podium tonight. But overall, it was still a great night. I earned my first heat race win of the season and I made some good passes in the main event to salvage some points," remarked Dungey. "It was hard to make passes tonight so I am glad I was able to pass as many riders as I did. My team has been behind me 100% this season and I am glad we are still running up front in the points and I am looking forward to a podium finish at the next event."

Next Round: Anaheim, CA

Eli Tomac Makes It Two In A Row At Oakland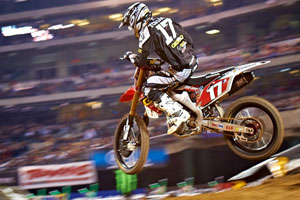 Eli Tomac starts a promising winning streak - Photo: Frank Hoppen
GEICO Honda's Eli Tomac won his second AMA Supercross Lites West race of the season in a row on Sunday, pulling out ahead of the other riders in the overall standings.

Crashes were the big story for the night in Oakland, as many of the top riders were taken out by mistakes and collisions. Kawasaki's Tyler Rattray was not able to compete after being knocked out during a crash in qualifying. Suzuki's Martin Davolos grabbed the holeshot, but he went down early and Tomac was able to build up a big lead.

Over the course of the night, Dean Wilson, Cole Seely and Jason Anderson would all crash as well. Of the three, Wilson was the highest in the overall points standings. The Kawasaki rider ultimately finished all the way back in tenth, which allowed Tomac to jump out to a 15-point lead overall.

"This is my best season ever," said Tomac. "Our team worked really hard to give me a great bike, and I made the most of it. I now have a nice lead going into Anaheim."

Marvin Musquin and Zach Osborne rounded out the podium in second and third, respectively. Osborne is the next closest to Tomac after Wilson, although he is still more than 20 points out of the lead.

Marvin Musquin Earns 2nd Overall At Oakland Supercross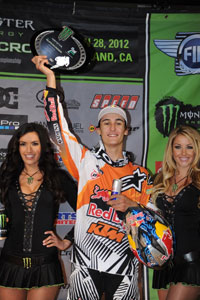 Marvin Musquin takes second - Photo: Hoppenworld.com
Red Bull/KTM's Marvin Musquin matched his best finish of the season at the fourth round of the AMA West Supercross Lites Series held at the Oakland Coliseum where he finished 2nd overall.

Musquin turned heads throughout the day after putting down quick times during the timed qualifying sessions. In the final practice he turned the fastest time of the SX Lites practices which also held as the third fastest practice time of the day when you combined his time with that of the SX class.

His fast lap earned him the top gate pick heading to his heat. Unfortunately he suffered a bad start in his heat and came around the first corner in 8th position. He put on a hard charge and was able to pass four riders to secure a 4th place finish and a decent gate pick for the main event.

When the gate dropped for the main event, Musquin got a late jump and came around the first corner mid-pack. By the end of the first lap he was sitting in 8th position. He made the pass for 7th a few laps later and climbed into 6th place at the halfway point. He really turned up the speed after the ninth lap where he was able to move into 5th when Jason Anderson made a mistake. He continued to move forward at an impressive rate and began to catch the top three riders. With only four laps to go he passed into 3rd and then went one step further and began to pressure Zach Osborne for 2nd. He made the pass with three laps left in the race to secure 2nd for the evening.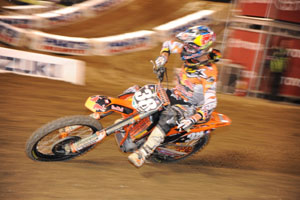 Marvin Musquin worked his way up from 8th place - Photo: Hoppenworld.com
Musquin's 2nd place result moved him up three positions in the overall point standings. Four rounds into the race he now sits 4th in the overall standings just three points off of the third place position.

"I am so excited with my result tonight. When my mechanic said I was 10th on the pit board the first lap, I was worried I would not be able to make the passes I needed. But I rode as hard as I could and made some smart passes and worked my way up. This helps me a lot in the point standings and I am looking forward to more success next week," stated Musquin.

Next round: Anaheim, CA

Matt Moss Earns Career Best Finish At Oakland Supercross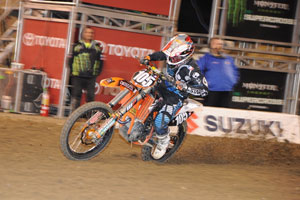 Matt Moss earned his career best finish in Oakland - Photo: Hoppenworld.com
JDR/J-Star/KTM rider Matt Moss earned his career best finish when he earned 5th overall at the Oakland Supercross.

Moss was placed in the first SX Lites heat race where he earned a mid-pack start around the first corner. He quickly moved around a few riders to move inside the top ten. After six laps, Moss passed two additional riders and qualified 8th overall into the main event.

Moss' teammate, Ryan Marmont, returned from injury at the Oakland Supercross and was placed in the second SX Lites heat. Marmont pulled a phenomenal start to round the first corner in 2nd position. Unfortunately, his endurance is still lacking from the multiple injuries and time off the bike over the past few months so he slipped out of qualifying position. Marmont was sent to the LCQ where he held on for a 2nd place finish to take the final transfer spot to the main event.

"I consider it a good night to qualify into the main event tonight," stated Marmont. "I wasn't able to ride much since hitting my head in a practice crash two weeks ago and it catches up to you fast. It was hard to hold on in my heat race and I am just glad I was able to qualify and will get a chance to compete in the main."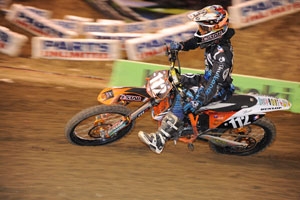 Ryan Marmont was glad he was able to qualify and compete in the main event after his recent injuries - Photo: Hoppenworld.com
When the gate dropped for the main event, Moss secured his best start this season when he nearly pulled the holeshot around the first corner. "I got a great jump off the gate and had the lead heading to the first corner but was slightly edged out by Martin Davalos," remarked Moss. A decent start placed Moss inside the top five as the riders began to tackle the 15-lap main event.

Moss quickly moved into 4th place where he remained throughout the first half of the race. Moss held a consistent pace and rode with little mistakes to maintain his top five placement. The farthest he dropped throughout the race was 6th place which he quickly moved out of after capitalizing from a crash by Jason Anderson. He continued to move forward with a last minute pass on Davalos to regain 4th position. "I started to ride a little tight with a few laps to go and I lost one position to Ryan Sipes which put me in 5th place," said Moss. "I'm still very excited with my finish and it gives me a confidence boost to know I can run up front. The goal from here out is to work toward a podium result."

Marmont was not as fortunate in the main event and suffered a poor start and a crash near the mid-way point. He eventually finished the night in 19th position.

Next Round: Anaheim, CA

Oakland Overview And Point Standings
General Overview


Circuit Length: Unknown

Crowd: 46,017

Weather: Dry

Last Years Winner: James Stewart

Next Event: Anaheim, CA - February 4, 2012

Manufacturer Standings - 01/29/2012


Honda - 87

Kawasaki - 85

KTM - 85

Yamaha - 73

Suzuki - 50

Overall Results - Supercross Class: 20 Laps


James Stewart: 18:14.903

Chad Reed: +2.355

Ryan Villopoto: +6.310

Ryan Dungey: +14.414

Andrew Short: +18.128

Kevin Windham: +19.648

David Millsaps: +21.575

Jake Weimer: +29.378

Justin Brayton: +31.505

Joshua Hansen: +37.842

Mike Alessi: +47.724

Kyle Chisholm: +50.093

Broc Tickle: +51.513

Brett Metcalfe: +55.487

Nicholas Wey: +57.114

Cody Mackie: -1 Lap

Weston Peick: -1 Lap

Robert Kiniry: -1 Lap

Ben Lamay: -5 Laps

Kyle Partridge: -19 Laps

Point Standing - Supercross Class (Race 4 of 17)


Chad Reed - 85

Ryan Dungey - 85

Ryan Villopoto - 83

James Stewart - 73

Jake Weimer - 61

Kevin Windham - 58

Andrew Short - 52

Joshua Hansen - 47

Brett Metcalfe - 45

David Millsaps - 42

Mike Alessi - 38

Justin Brayton - 37

Kyle Chisholm - 34

Broc Tickle - 30

Ivan Tedesco - 21

Nicholas Wey - 16

Trey Canard - 14

Weston Peick - 10

Kyle Partridge - 10

Chris Blose - 9

Overall Results - Supercross Class: 15 Laps


Eli Tomac: 13:51.515

Marvin Musquin: +12.299

Zachary Osborne: +14.052

Ryan Sipes: +16.133

Matt Moss: +20.478

Travis Baker: +22.422

Nico Izzi: +23.832

Max Anstie: +24.070

Martin Davalos: +24.875

Dean Wilson: +27.416

Cole Seely: +28.448

Jason Anderson: +40.473

Billy Laninovich: +40.868

Gavin Faith: +42.477

Gareth Swanepoel: +45.640

Michael Leib: +47.789

Vince Friese: +56.915

Killy Rusk: +57.362

Ryan Marmont: -1 Lap

Topher Ingalls: -6 Laps

Point Standing - Supercross Lites West Class (Race 4 of 8)


Eli Tomac - 88

Dean Wilson - 73

Zachary Osborne - 67

Marvin Musquin - 64

Tyla Rattray - 60

Cole Seely - 57

Jason Anderson - 53

Nico Izzi - 46

Max Anstie - 45

Ryan Sipes - 43

Matt Moss - 39

Travis Baker - 38

Billy Laninovich - 35

Michael Leib - 29

Martin Davalos - 27

Vince Friese - 25

Teddy Maier - 21

Wil Hahn - 13

Gavin Faith - 10

Gareth Swanepoel - 10